Kids Travel Car Seat Review – Bubblebum and Cosco Finale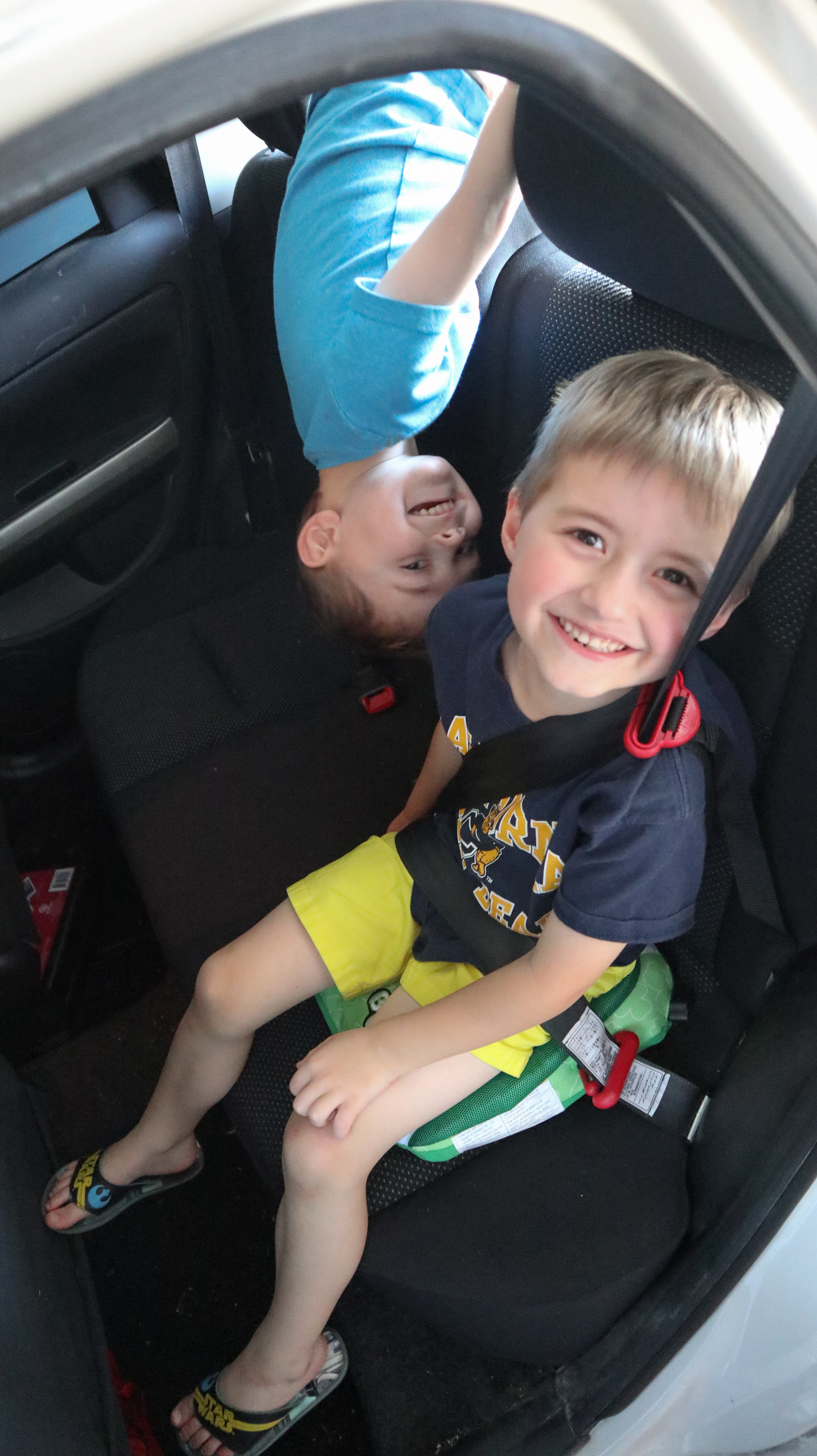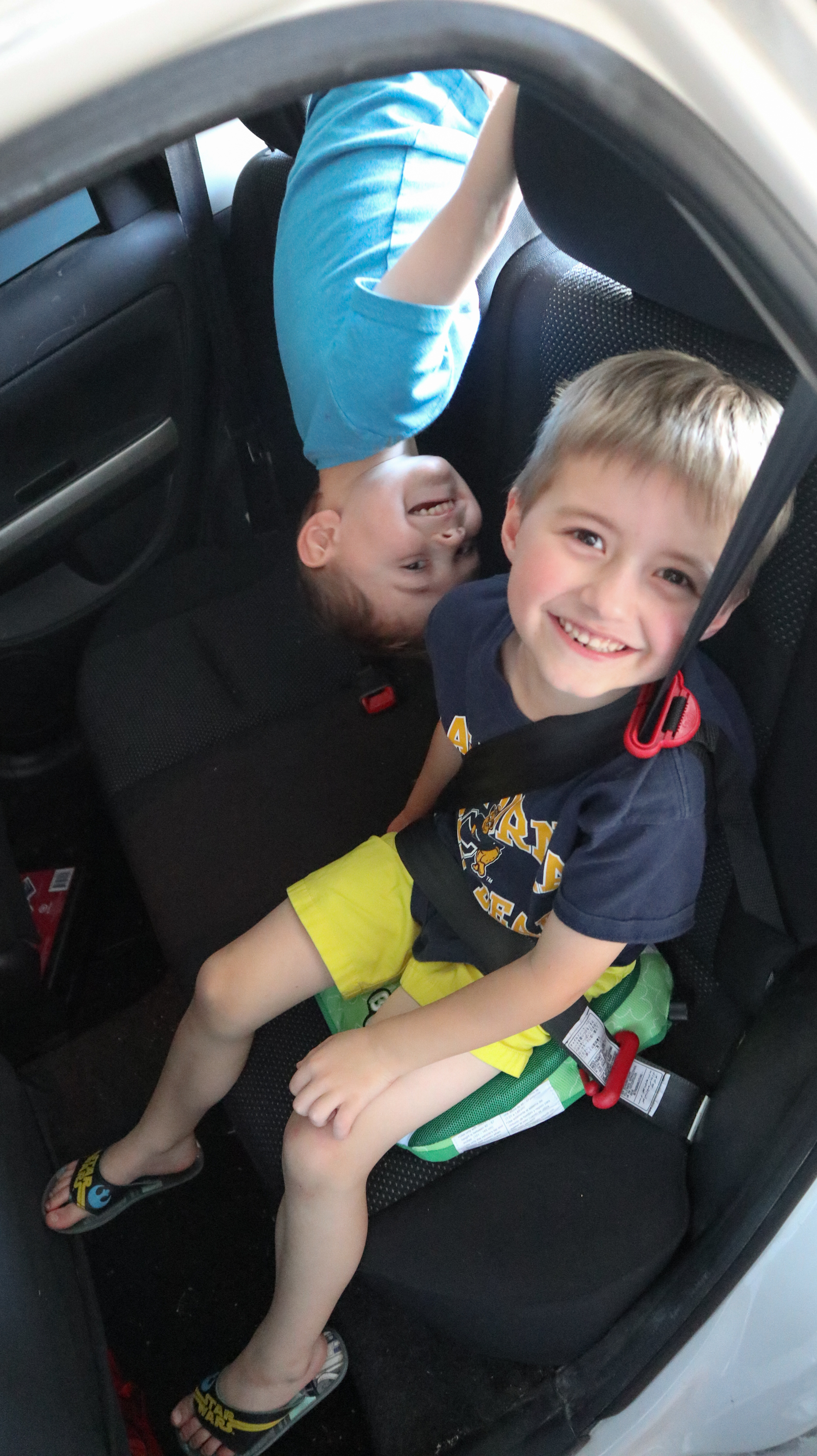 *We like to share things we find helpful with our readers, so this post may contain affiliate links. If you click on them, we will receive a portion of any sales made, at no additional cost to you. We appreciate it! See our Disclosure page for more details!
(Obviously don't let your kids ride in the car like this. Haha. This was in our garage at home, where Toby decided to be silly.)
When we decided to take a trip to both Orlando, Florida and New York City, we were pretty excited. After all, this would be the kids' very first flight that they were old enough to remember!
Tickets were booked, hotels were reserved, and I spent many hours researching
kid-friendly places in Orlando
to spend our days while Josh would be at a work-related conference there.
And suddenly it hit us.
What were we going to do about car seats?!? 
Could We Get Around Orlando & NYC Without Car Seats?
We have two little boys, one of which falls into the age and weight range where he still needs a fairly bulky car seat. We could probably get by on the airplane without one, but would definitely need it for the rental car in Florida. We weren't doing the typical "stay on Disney property and use the shuttles" kind of family trip. I needed to be a bit more flexible with transportation, because I'd be dropping Josh off at a work conference on some of the days and driving the boys out to some fun stops like Gatorland.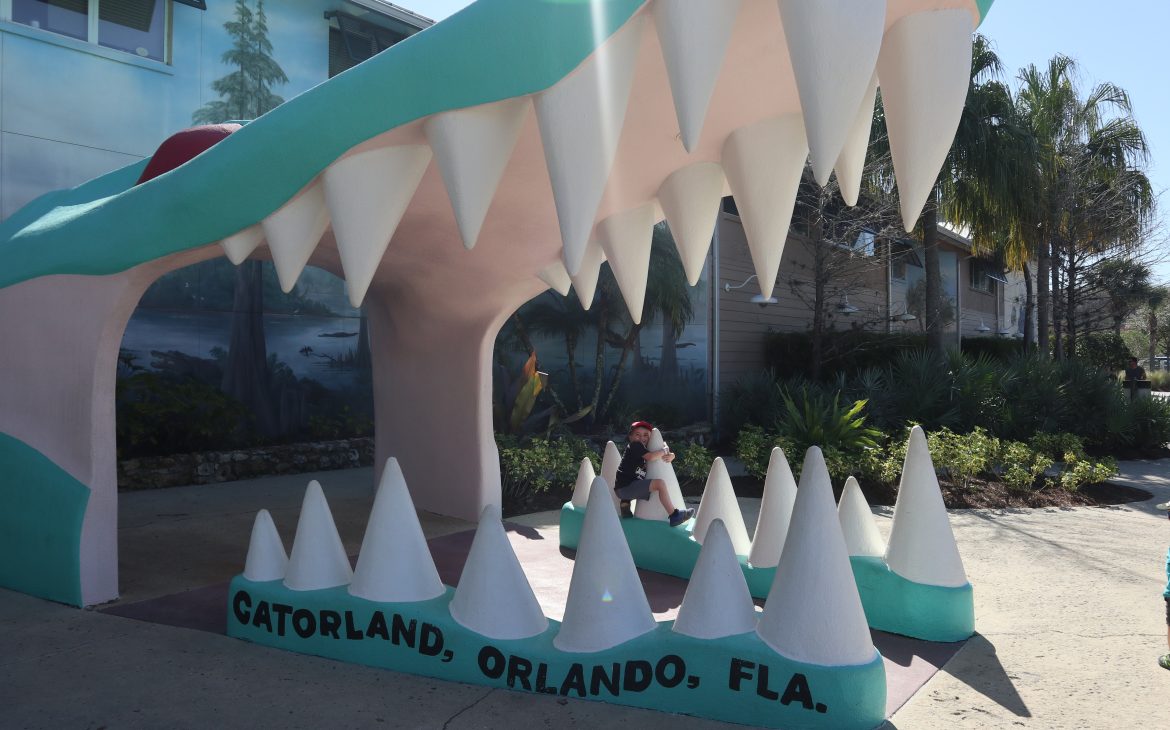 Our six year old still legally requires at least a booster seat, so there was that to figure in as well. 
Sure, we could always rent one from the car rental company, but we wouldn't be able to guarantee its cleanliness or verify that it hadn't been banged around or in an accident.
And then there was New York to think about…we weren't renting a car there, and while we planned on using the subway most of the time, I wasn't able to get a definitive answer on whether the bus from the airport to the subway required car seats or could accommodate them.

New York TECHNICALLY doesn't require car seats in cabs, but there was no way I was taking that chance with the kiddos' lives.
So the search for the perfect travel car seat that we could carry through an airport, on the plane, and to two major cities began.


Which Travel Car Seat is Best for Families?
I started with Brendan's, since his would probably be easiest to select. He's old enough to sit in a booster/seat belt positioner, so this seat could be much smaller and lighter. I wanted something that would fold up small enough to tuck into a carryon bag, but still be comfortable enough to sit on and above all, be SAFE. The biggest two portable car seat recommendations for travel situations like this, based on my research, seem to be the
Mifold Grab and Go Booster Seat
and the
Bubblebum
.
*Note: The Hiccapop was another option I considered, and actually ordered first, but then the company cancelled my order because of a product recall, so I wasn't able to test it.

I liked how small the Mifold could fold up, but it just didn't look like something that was very soft to sit on, and didn't really boost the child's height at all, which can be frustrating when they want to look out the window.
So I opted to try the Bubblebum instead.
Bubblebum Travel Car Seat Review
The Bubblebum is a compact, inflatable travel car seat that comes in a few color options and designs: basic black, pink chevrons, British Flag, green clovers, and USA colors. Brendan chose the green clover pattern.
The Bubblebum comes with the seat, an additional strap for shoulder belt positioning, and a handy little carrying bag. 
Since it's not FAA approved (inflatable seats never are), the first time we used the Bubblebum was when we picked up our rental car in Florida.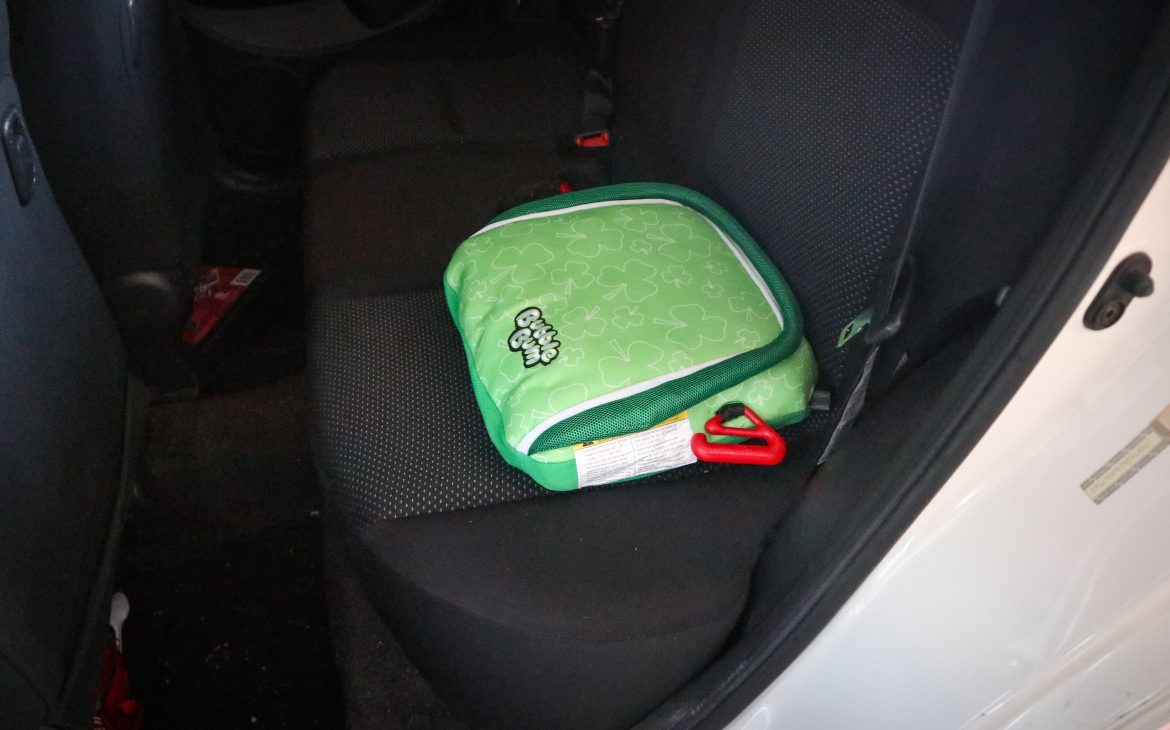 We were amazed at how fast and easy it was to install this thing! You just blow it up, set it down in the car seat, put the kid on it, and thread the seatbelt through the red positioning slots. The additional strap holds onto the cross-shoulder belt, and holds it on your child's chest at the appropriate level.
Brendan really liked feeling like a "big boy" in this seat. There was no 5-point harness or bulky chair to climb up onto, and it was SUPER fast to take out of the car as well. This was a big plus when we later used Lyft going to and from the airport in New York.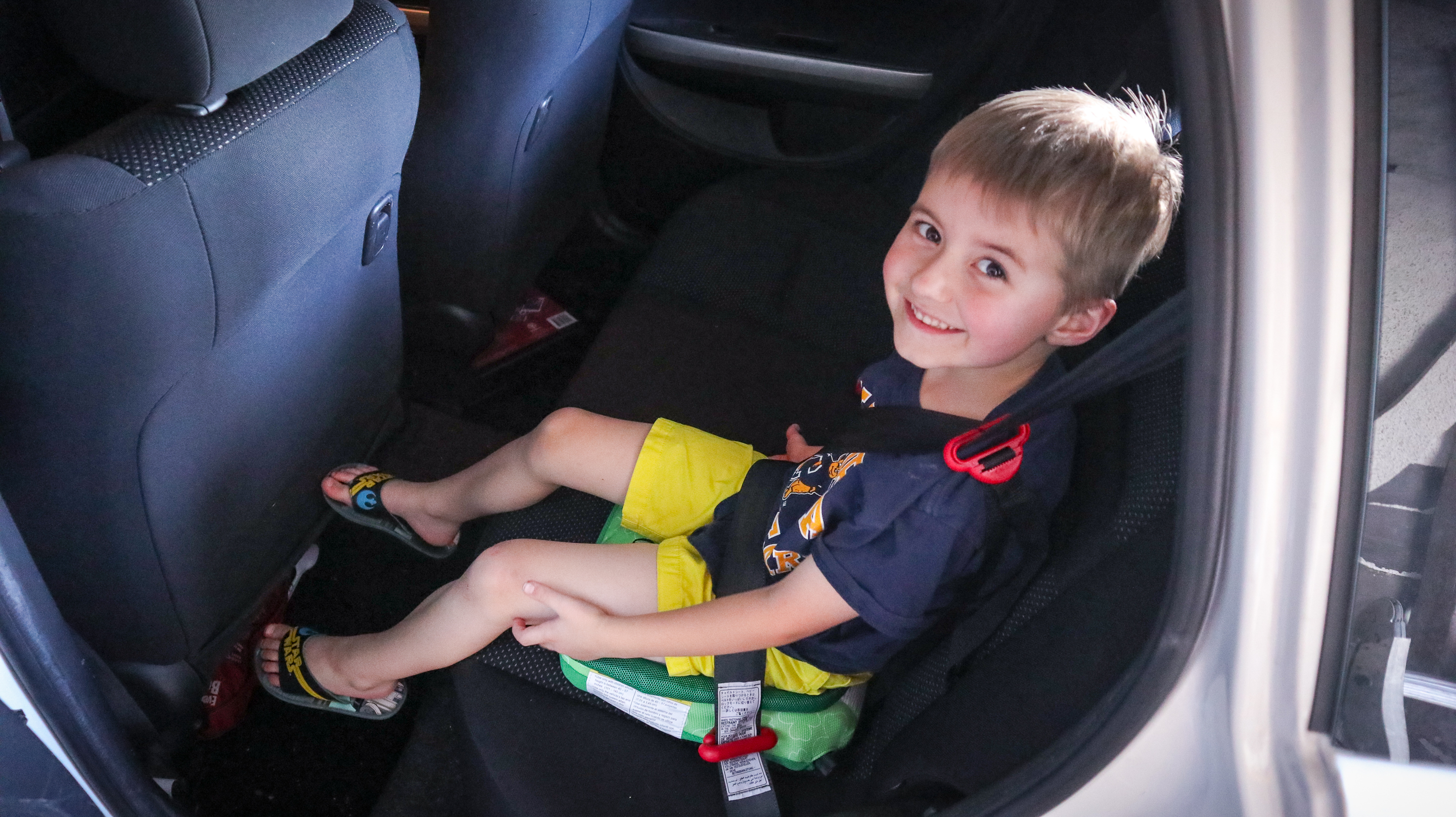 The compact size also meant that we could fit this into smaller seat areas. In our cars at home, the regular bulky car seats make it quite hard to fit any adults next to it, if we ever want to carpool. Not so in this case…I didn't feel super squished sitting between Toby and Brendan in the back seat this time, because there wasn't a lot of thick plastic pushing into me!
The only possible negative of the Bubblebum that I saw is that the valve you inflate the seat with is on the back, where it will inevitably be touching the same area where everyone sits. Eww. If you're using it often in cabs or various Ubers, this ups the ick-factor a bit.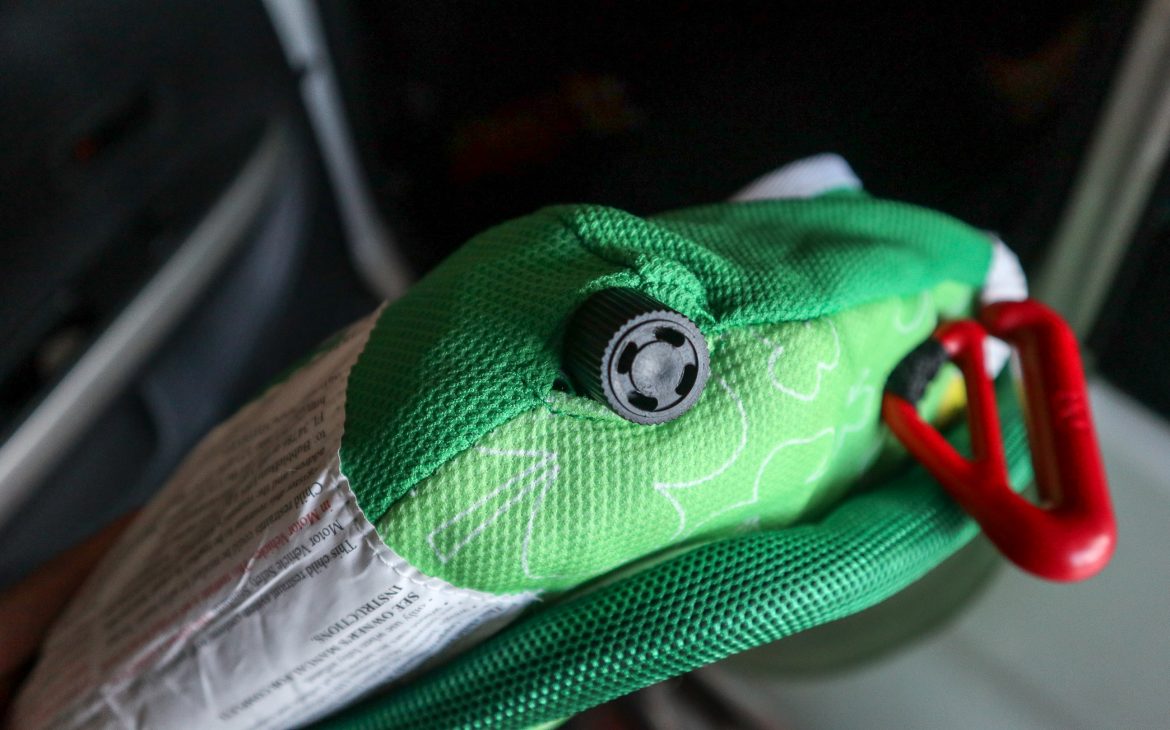 We kept a pouch of antibacterial wipes handy for this purpose, but I do wish the seat had a little cap or cover for that part.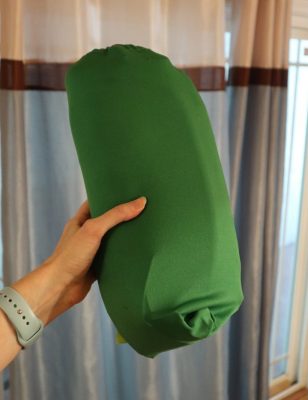 The Bubblebum also deflates and rolls up to a very small size. 
It comes with a handy carrying bag with a drawstring that was very easy to hang on the stroller, loop around the handle of my carryon suitcase, or tuck into a backpack.
That being said…don't…er…accidentally leave it on the plane when you disembark. Ahem. Not that I know that from experience or anything. Haha!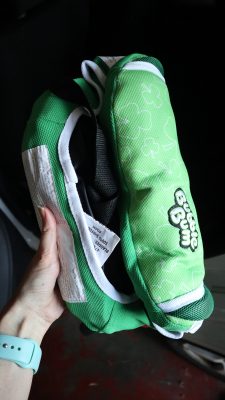 Travel Car Seats for Toddlers
When it came to Toby's travel car seat, we had to go with a much larger option, unfortunately. We couldn't just deflate and roll his up, like the Bubblebum! At 3 years old and 31 lbs., he was just barely big enough to hit that minimum weight limit on many high-back seats, but would be really squished in an infant seat. He still requires a 5-point harness, too. 
So in his case, I needed the lightest front facing seat with a harness that I could find, and it also had to be airline approved. We gate-checked our stroller, but I really didn't want to do that with a car seat…I
knew he'd be more comfortable on the airplane in it.
This seat would only be used when traveling, so I didn't want to spend a lot of money on it. We use the 
Graco 4Ever All-In-One Adjustable Car Seat
 for him at home, which is pretty plush and has neat features like double cup holders. That would just add bulk on a trip though, and I didn't want to take the chance of it getting knocked around or lost if we were asked to gate check it for some reason.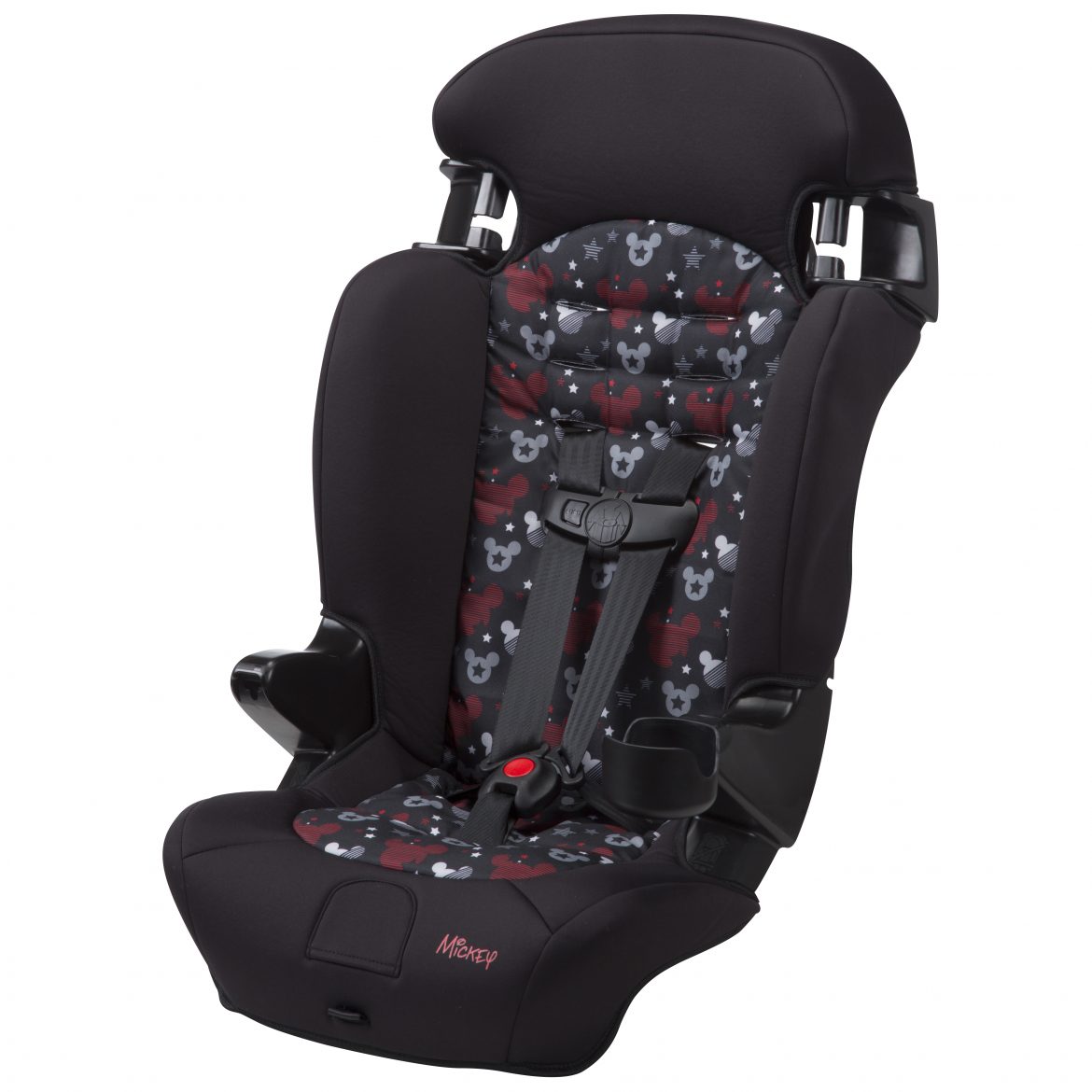 I finally settled on the Cosco Finale 2-in-1 Booster Seat. It fit all my requirements for safety, only weighed 8 lbs., AND it came in a MICKEY MOUSE OUTER SPACE PATTERN! (Look for the Disney Baby Edition, "Outta This World.") 
That was just too perfect for my Mickey-loving 3 year old. There are multiple colors and types available on Amazon, but if you want the Disney-themed version, you can find that at Wal Mart. And at under $50, it doesn't break the bank!
What We Like About the Cosco Finale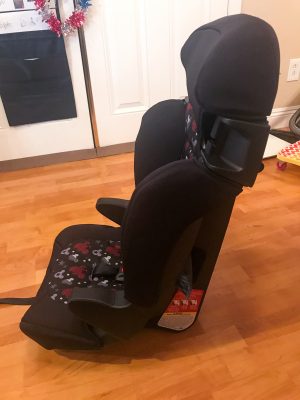 The first test for the Cosco Finale was at the airport. Luckily, this seat was VERY lightweight and easy to carry through the terminals. Josh either held it in one hand, or we used a spare bungee cord (helpful tip: bring a few of these along! They may come in handy!) to attach it to our rolling carry on luggage. Much less of a hassle than I thought it would be. 
The seat installed quickly and easily on the airplane seat, as well. All we had to do was thread the plane seat's lap belt through the openings on the back, and tighten it. It's a great choice if you're flying with kids! We put it in the window seat, and Toby was able to see everything as we took flight. This kept him pretty occupied most of the time, which was a blessing!
We liked the little detachable cup holder on the seat, as well. It slides right onto the front of either armrest, so it doesn't take up extra space next to it, like our carseat at home that juts out and is built in. It's a roomy cup holder, too…Toby's favorite Puppy Dog Pals water bottle that has a square bottom fit into it with no problem (and that darn bottle doesn't fit in half the cup holders we try!)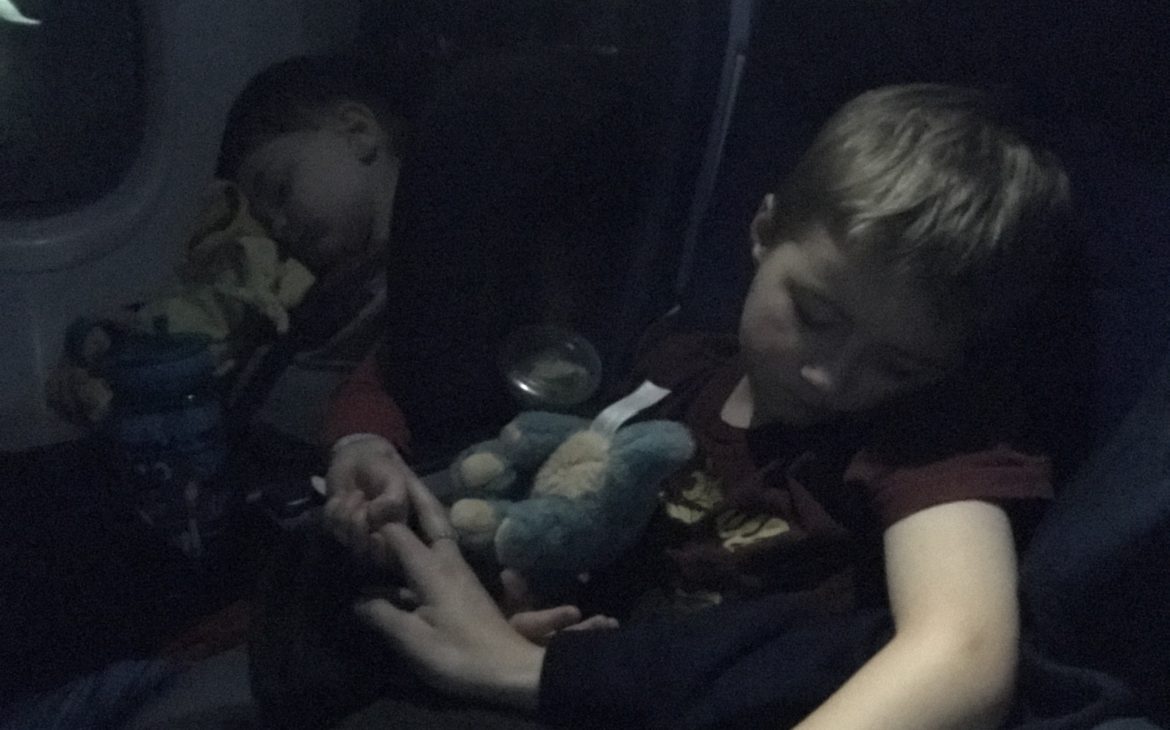 Some reviews I read had pointed out that the seat is not particularly plush, so that it probably wasn't comfy for long trips. We didn't find this to be the case, however. Yes, it is thin padding compared to the typical big car seats, but Toby seemed quite happy in it on a 4 hour flight, and even took a long nap, snuggled against the side headrest.
We Definitely Recommend These!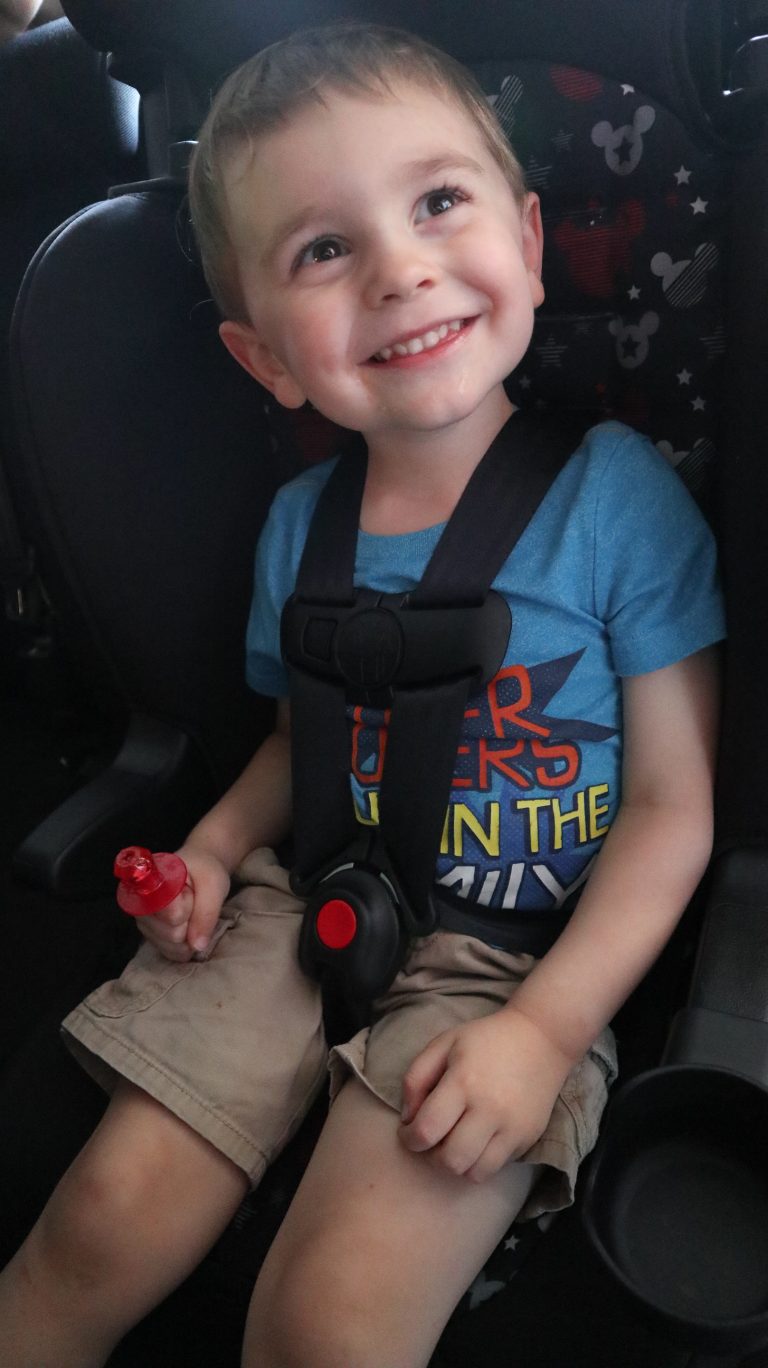 Overall, I am very happy with my choices of travel seats, and will definitely use these again in the future! Already, they've come in handy for short trips, like when Brendan wants to ride to the store in Grandma's car with her, and we don't want to take his main seat out of our van, or if our minivan is in the shop and we need to cram into dad's little Scion.
If you're planning a big trip with young kids any time soon, I encourage you to consider the
Bubblebum
and the
Cosco Finale
!