A Tour of Sea World San Diego's Rescue Facilities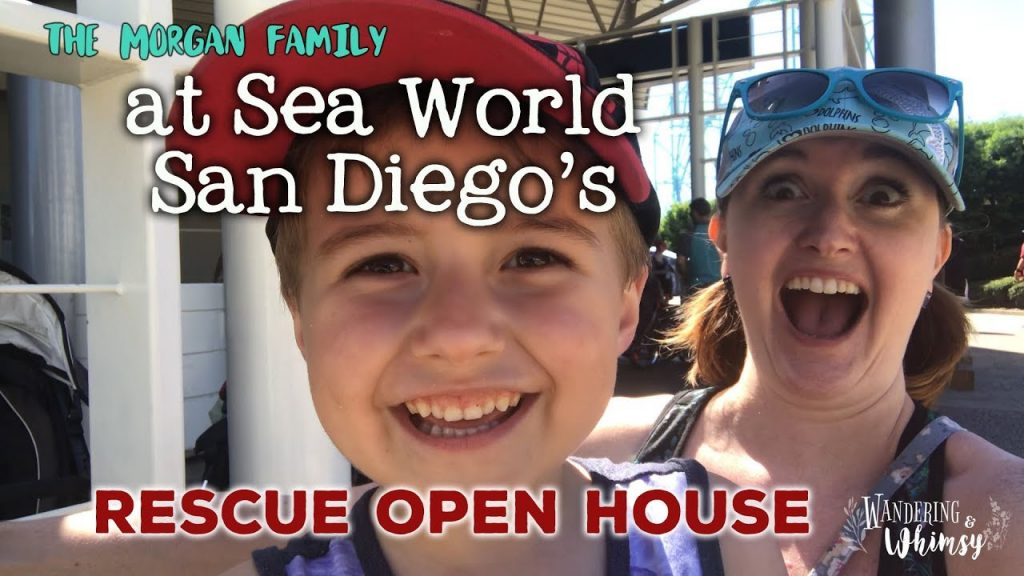 *We like to share things we find helpful with our readers, so this post may contain affiliate links. If you click on them, we will receive a portion of any sales made, at no additional cost to you. We appreciate it! See our Disclosure page for more details!
One of the places we particularly love to visit as a family is Sea World San Diego. It's not too far from our home, they have particularly great meal options for those with food allergies (gluten free pizza and pasta!), and there are some wonderful play areas and rides for the very littlest ones. When Toby was still crawling, the big foam block play area in the Sesame Street zone was a perfect place to rest on a comfy bench in the shade while he safely rolled around and babbled to other babies.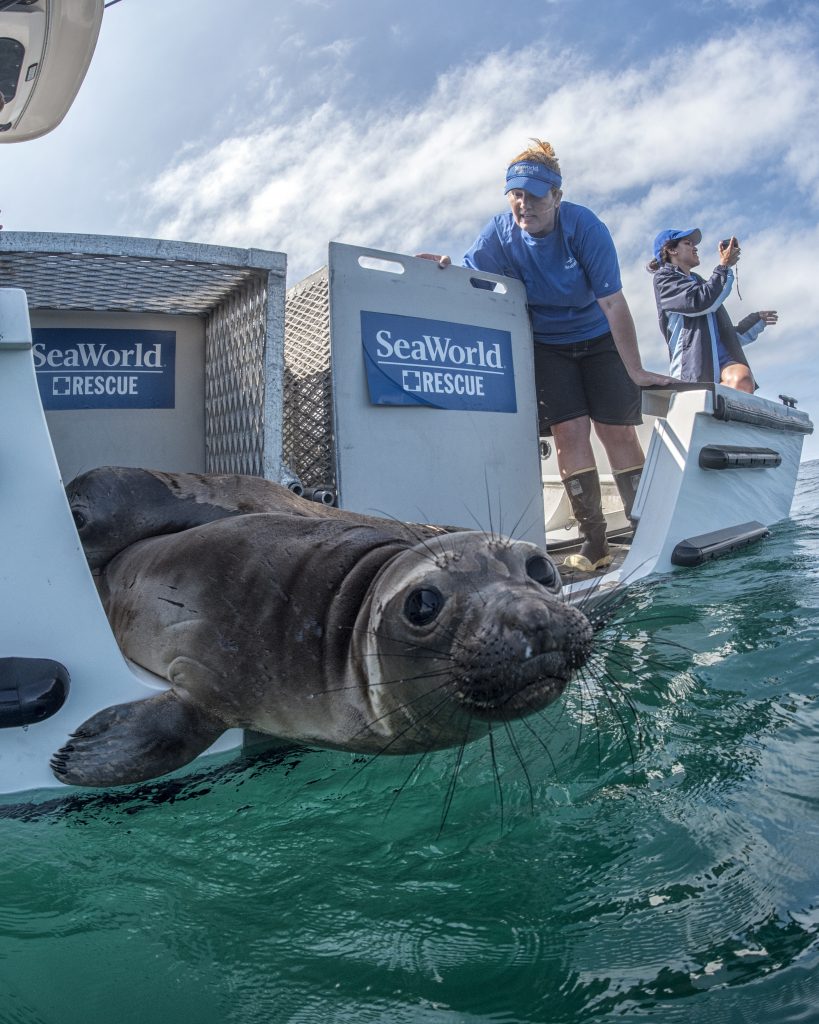 We were pretty happy to see that they would be holding an event this year where they would be giving tours of their behind-the-scenes animal care areas. We've always been curious about what is behind the public's viewing areas, especially in the big tanks that you can partially see when you get on the Skyride. I really enjoy studying animal behaviorism (we used to have a severely anxious-aggressive dog that required us to learn special training and recognize tiny changes in canine body language to help her thrive ), so I was thrilled to get a peek into how their programs were run.
When we entered the park, we were given a little map that marked each special presentation area, and where to meet for those that went behind-the-scenes. There were blank spaces to gather stamps at each experience, which the kids were excited about (my kids LOVE stamps!), and then you could turn your stamped map in at the main gift shop, and receive a free pin. (Yay for free stuff!)
Josh decided that the otter talk would be best to head to first, because it would probably be pretty popular. He was right…there was a big group gathered around the otter nursery area, so there was a bit of a wait. Toby was pretty excited…he has a stuffed baby otter that he sleeps with every night.
We walked through the nursery and feeding center, where they had pictures and feeding schedules displayed on the fridge. You could see up close the scales and warmers used for the sea otters when they were small, which was neat. Then we were guided to the back of the otter exhibit, where the otters could swim under a rock wall and escape from visitor's eyes if they wanted to. It was a large pool surrounded by glass walls, with a few openings to deliver fish. The otters were curious, and liked to come up to the openings, so the keeper warned us to keep our fingers back. No one wanted to get them chomped on! She told us all about how they care for their otters, and a few stories about the ones we were observing.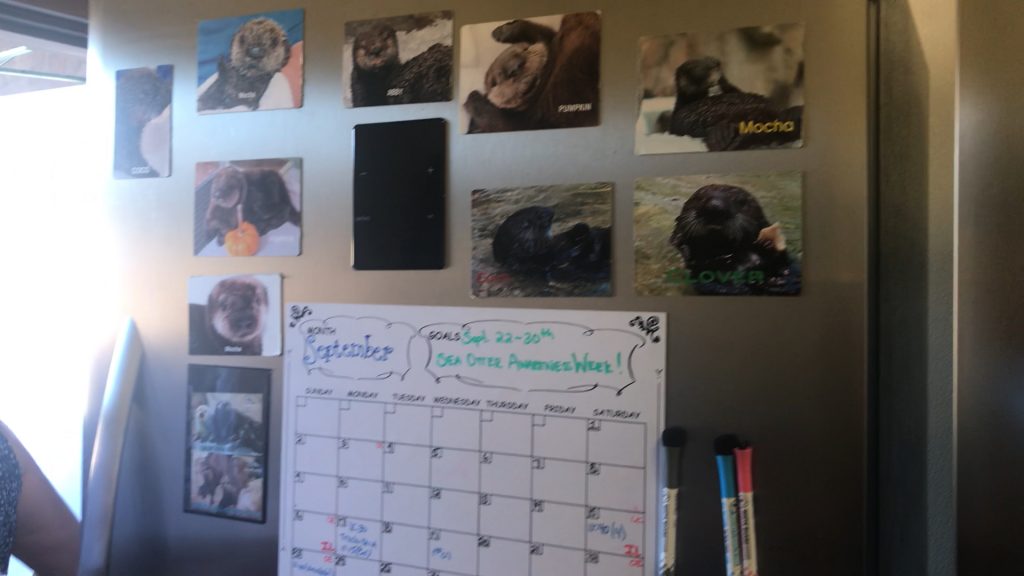 Next we headed over to the water filtration system area, which was WAY more interesting than I would have expected. We got to see the giant filters and tanks that pull in water from the surrounding Mission Bay, and clean out all the junk and trash that is inevitably in the sea water. You could very clearly see just how gross the water was coming through the pipes, which made me a little sad about how polluted our oceans have gotten. 
The water is also cleaned again on the way back out, before it goes back to the ocean. "Think about how much dolphins and whales poop in their tanks all the time…it gets pretty disgusting!" he told us. That made the boys giggle. 
The man explained how it was crucial that the water going into each animal's habitat was specially formulated for their species. The ph balance and salinity levels were carefully monitored, because animals can quickly get sick if their tanks are dirty or the wrong type of water is in it. The park has an intricate system of pipes running under it with both hot and cold water, which is computerized to maintain just the right temperatures. The penguins and belugas need a very cold temperature, which can be hard to keep up in hot summer temperatures, and the pirahnas need a very warm water temperature, a challenge in cold weather months. It was fascinating to hear about all these things that we never think about when we see the animals in the park. They work very hard to keep them healthy, and are also cleaning the surrounding ocean water in the meantime.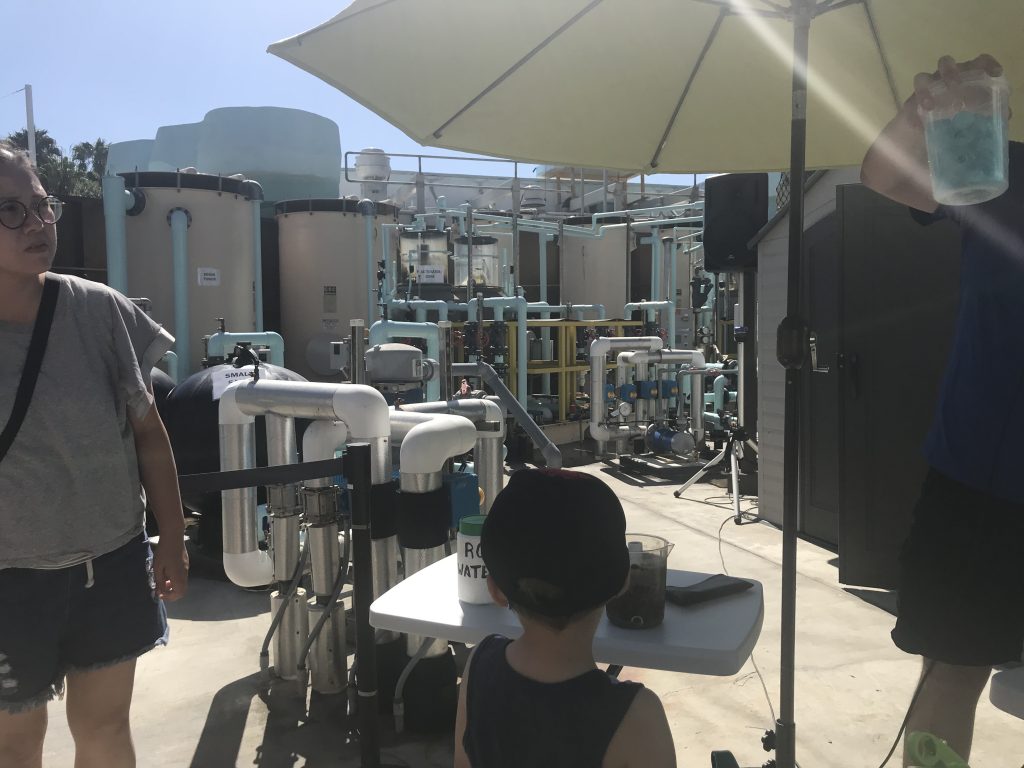 Then, we headed to the bird rescue area. We visited with some really cute ducks and heard some facts about the various species from their trainers, then headed back to the oil spill cleanup center and rehab area. They were very thorough here; there were rooms for each step of the process when they take in sea birds who have gotten oil on their feathers. (And yes, just like those commercials you've seen, they DO use Dawn dish soap to bathe them in!) I never realized just how dangerous oil can be for birds; the keeper told us that if any of their feathers get damaged or pulled off, it can break the waterproof barrier in their down and they can get waterlogged or hypothermic very quickly. Birds are quite sensitive, so they demonstrated how the team has built custom "nest boxes" with nets that mimic the sandy ground (hard concrete is easier for them to clean, but birds can develop sores and leg issues on hard ground for too long) and are suspended above dryers and lights to keep them warm and soft.
The real treat was getting to see one of their rescue birds being fed. They explained that the birds get frightened easily by loud sounds, so the group waited on the other side of a big window and we tried to be quiet. They brought the bird in a blanket and carefully guided a long tube down its throat to pump pulverized fish into it's stomach, because it was too weak to eat enough on its own. It was a neat science lesson for our kids, because we could explain a bit about how birds digest things and how their moms usually feed them in a similar manner.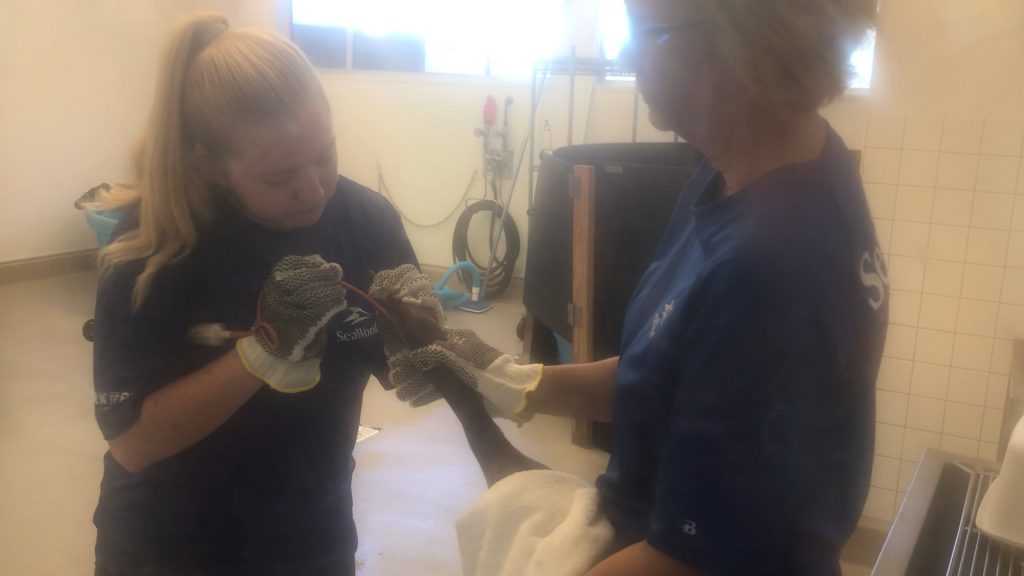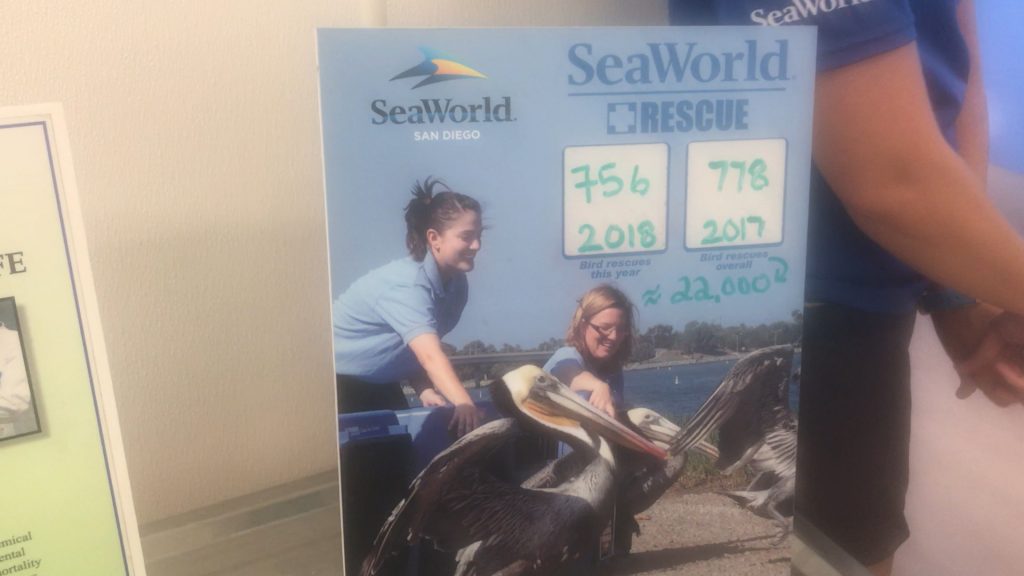 The animals' welfare is carefully monitored here. We even had to wipe our feet and even our stroller's tires across a special mat on the way out (with an employee stationed to make sure we did) to disinfect any stray germs that might have stuck on from the quarantine area. We certainly didn't want to spread any bird diseases to the other animals! 
Our favorite tour, however, was definitely the medical/rescue center. This is a big facility that I didn't even know existed, back behind the Cirque de la Mer stadium. It's the main place that all the animal's food is prepared, and their health is monitored. I would have loved to just sit and observe this area all day. 🙂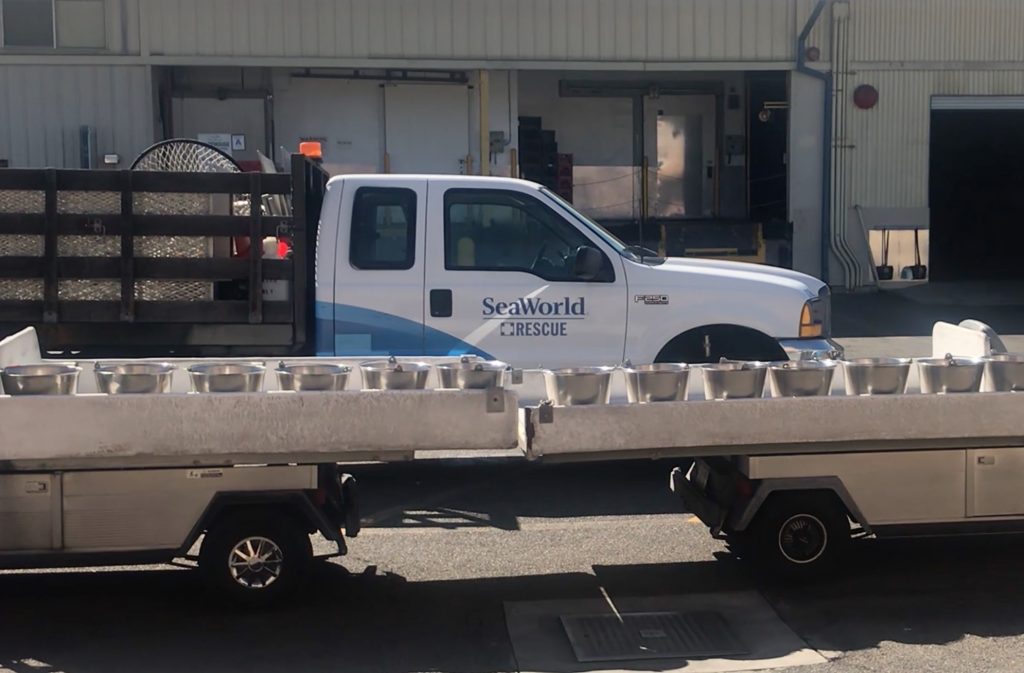 First we stepped into the food prep area, and got to see the giant walk-in freezer where all the fish for the park's dolphins, whales, otters, seals, sea lions, and other animals are kept. We heard about how the fish is always restaurant quality, bought from the same vendors that serve the fancy seafood places, and how there was a strict requirement that all fish was covered by at least 2 inches of ice at all times in order to keep it fresh. 
There were trucks with buckets ready to rush off the meals and big schedules on the wall showing just how many pounds of fish and what types each animal should get and when. You would think that the orcas might be the most expensive to feed, but it was actually the otters! They dine on much costlier seafood, like oysters and shrimp.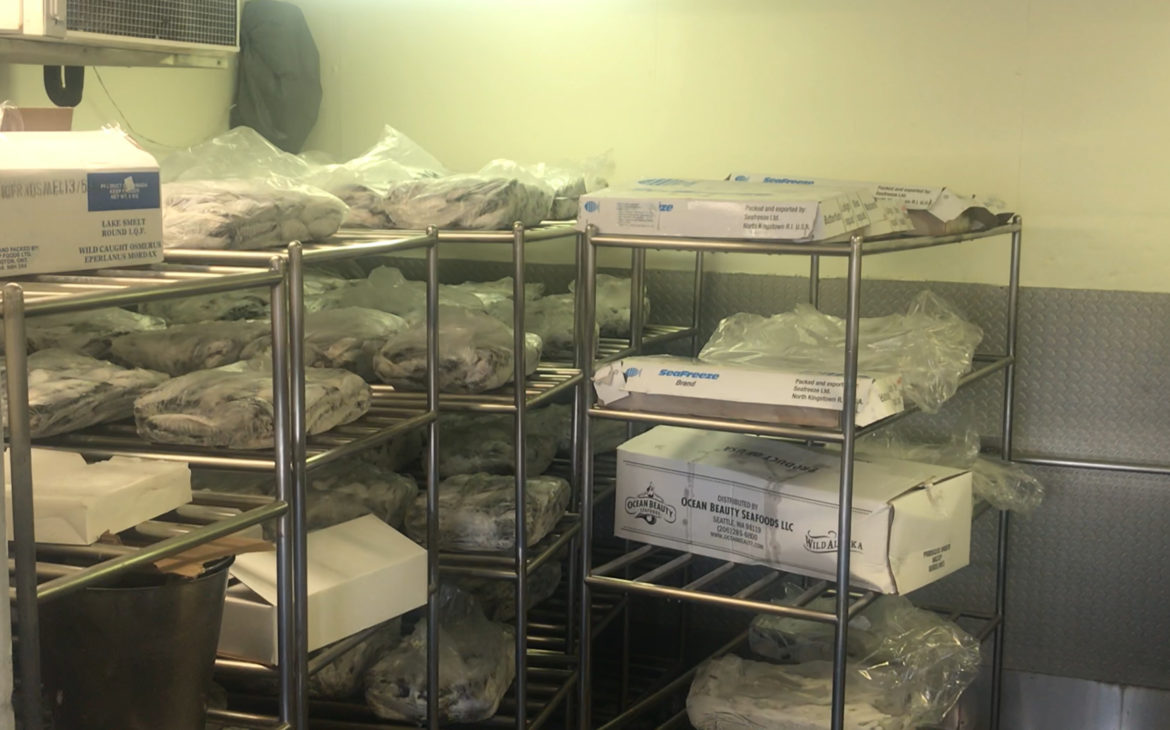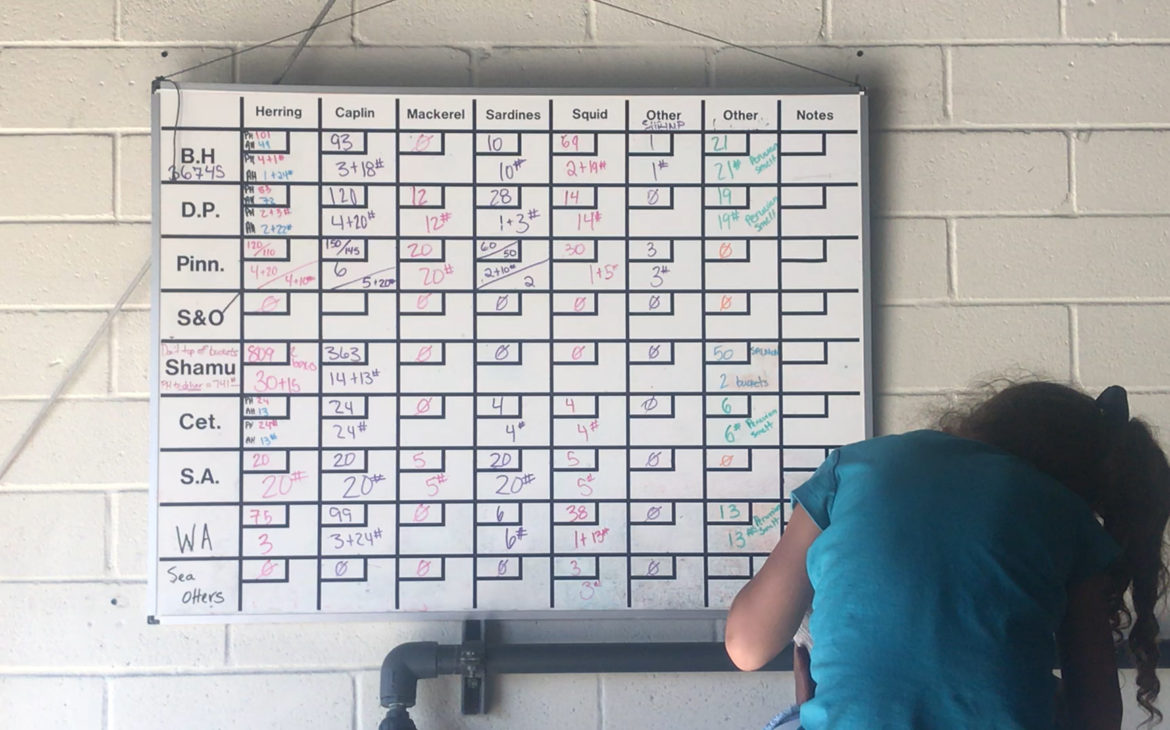 The next stop was the med bay. This was a fully equipped operating room, full of medical equipment you might see in human hospitals like an x-ray machine and camera scopes. We got to hear about some of the rescues that the team made for injured animals, and even got our random questions answered, like "what do you use to stitch up a cut on a dolphin?"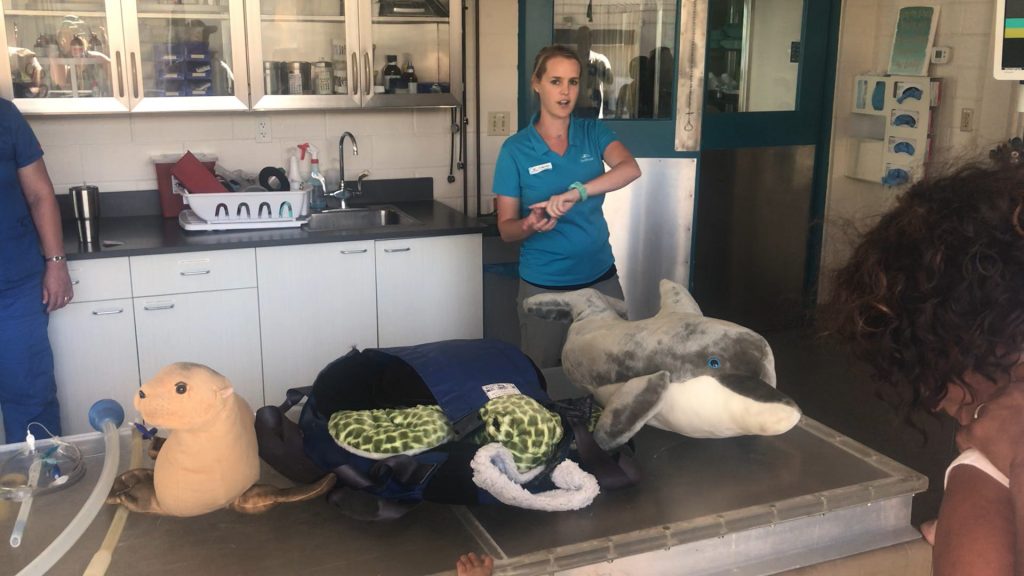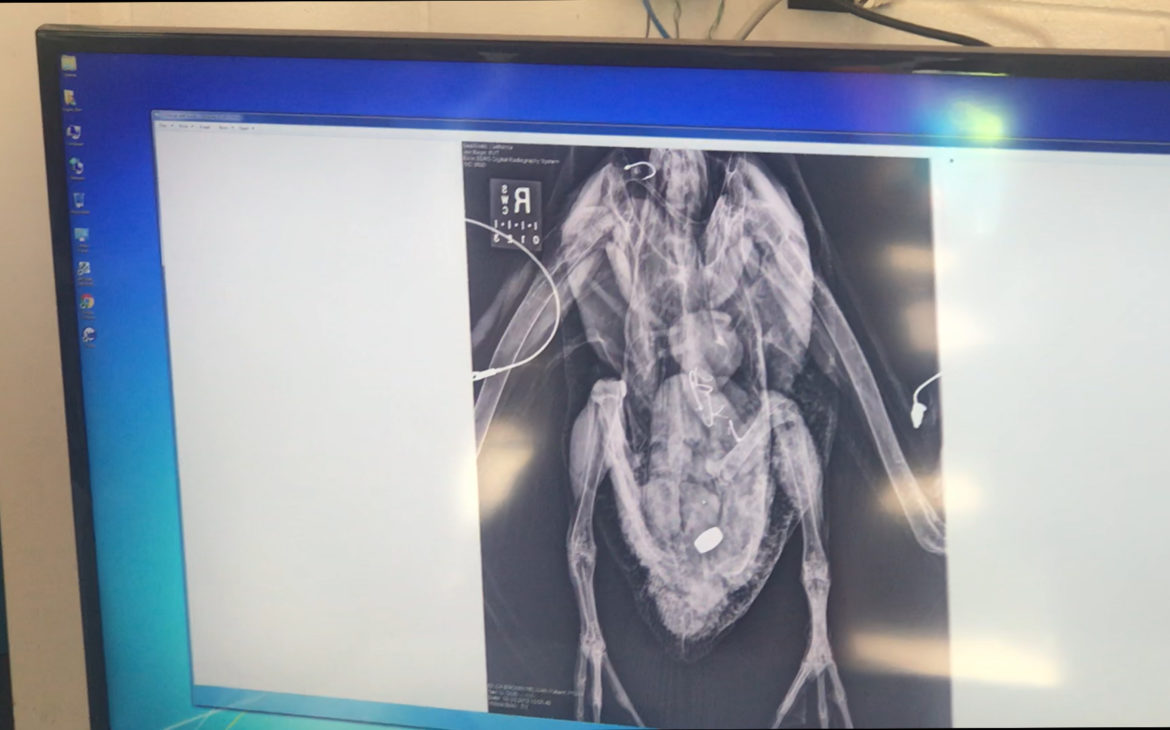 The vet showed us this x-ray of a poor sea bird who had swallowed a fish hook and weight. Then we got to see the special camera and robotic claw that helped take it safely out so the bird could recover.
This little lesson really came in handy the next day, when I took the boys to the beach and they found someone's discarded netted toy bag in the sand. "Mom, we should put this in the trash! The seagulls might try to eat it or a fish could get stuck in it," explained Brendan. I'm glad that stuck in his mind – he'll be much more aware of what he does with trash from now on.
Finally, we got to see the tanks that were holding some dolphins. They were studying the hormone levels of a few dolphins, and the trainer told us a little about the ones we were observing. This was the best part of the whole day…right at that moment, the female dolphin got a mischevious glint in her eye, flipped over, and SOAKED the nearby group of people with a giant wave from her tail. Then she popped back up and GIGGLED. It was clear that she was playing a joke and was really amused. (There was no signal from the trainer; the dolphin did this all by herself!) I was really glad that I happened to be filming, so you can see it in the video at the top of the post!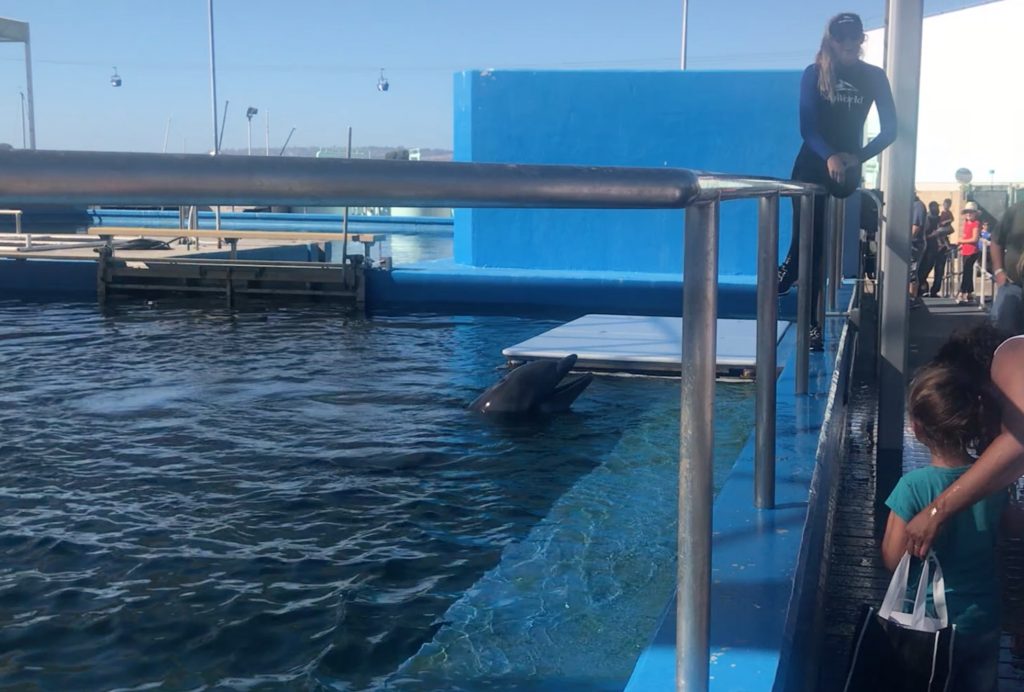 I was really glad that Sea World gave this opportunity to see behind the scenes. Now we have a better understanding of how detailed the care of the animals is. You could tell that the people who work with the animals really care about them, and have a passion for conservation and rescue. Yes, there is some controversy about Sea World in general, surrounding the orcas (which I'd prefer not to get into here), but it is clear that they do a lot of good in the area of rescue and rehabilitation, and I'm glad that the park's income can support those efforts. I'm sure it costs quite a lot to feed and care for all these animals while they recover!
The rest of the day we spent enjoying the food (those all-you-can-eat wristbands are great!) and the new Ocean Explorer ride area, which has plenty of fun things that my kids are actually tall enough to ride. Brendan loves the swings, and Toby enjoys the jet ski bouncing ride. I'm really glad they added these, because previously, the only rides the kids could go on were the spinny type in the Sesame Street play area (why do kids LOVE dizzy rides so much?!?). Mama's tummy can't handle spinning rides. And of course they weren't quite tall enough to go without an adult, so Josh and I always had to decide who would have to risk feeling sick. LOL. Now there are a lot more choices! Josh even got the chance to ride their new coaster, Electric Eel. (I decided it was a bit too scary for me…I'm a much bigger fan of their other coaster, Manta.)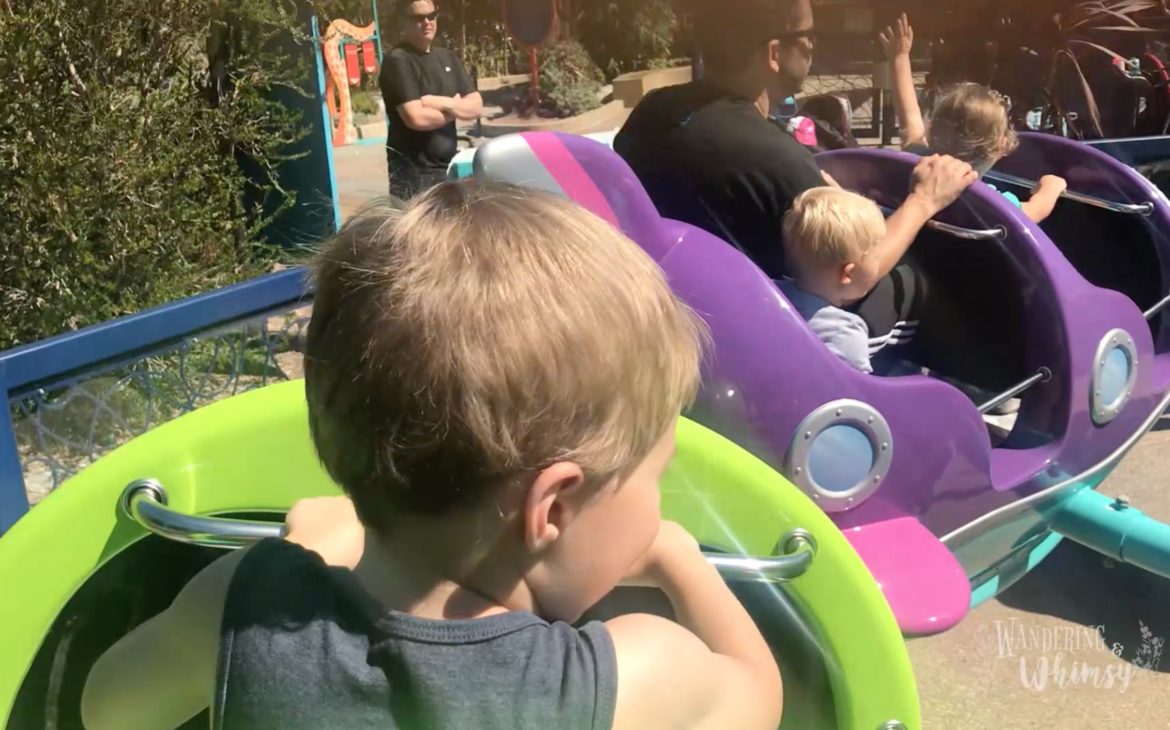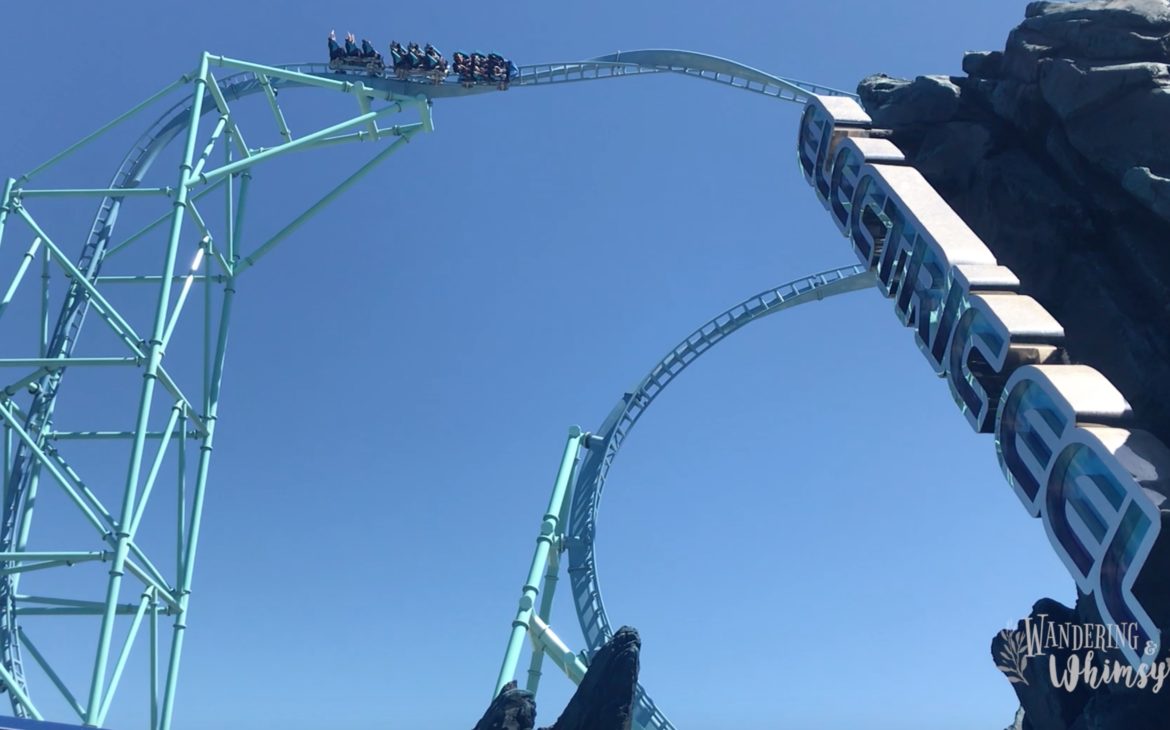 At the end of the day, after collecting all the stamps on our map, the boys all earned an exclusive pin, which they displayed proudly on their shirts! We had a lot of fun and learned quite a lot. If you get the chance to attend their "Inside Look" event, which they offer annually, definitely check it out!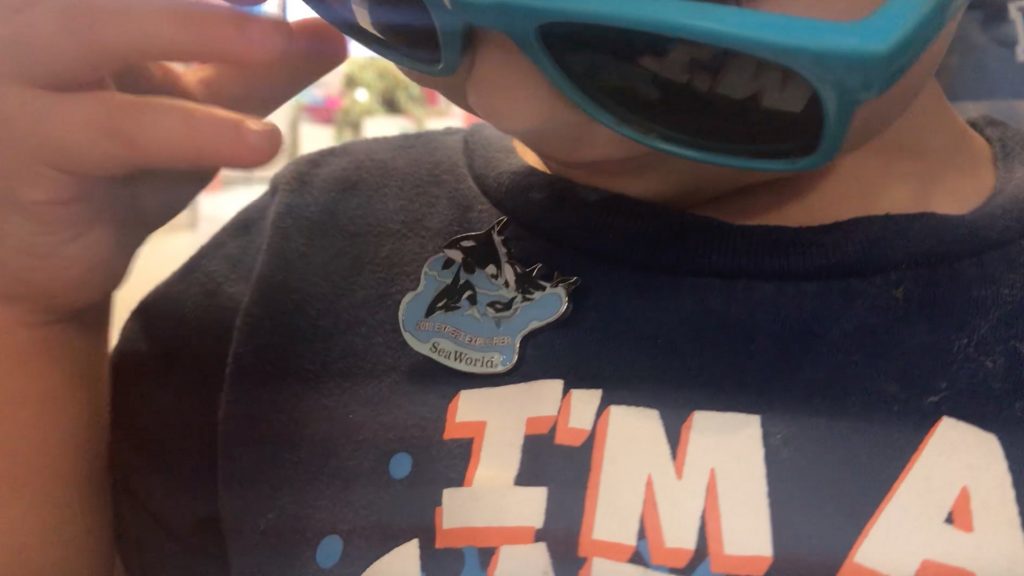 What is your favorite sea creature and why? Tell us in the comments below!