Netflix Nailed It! Holiday Village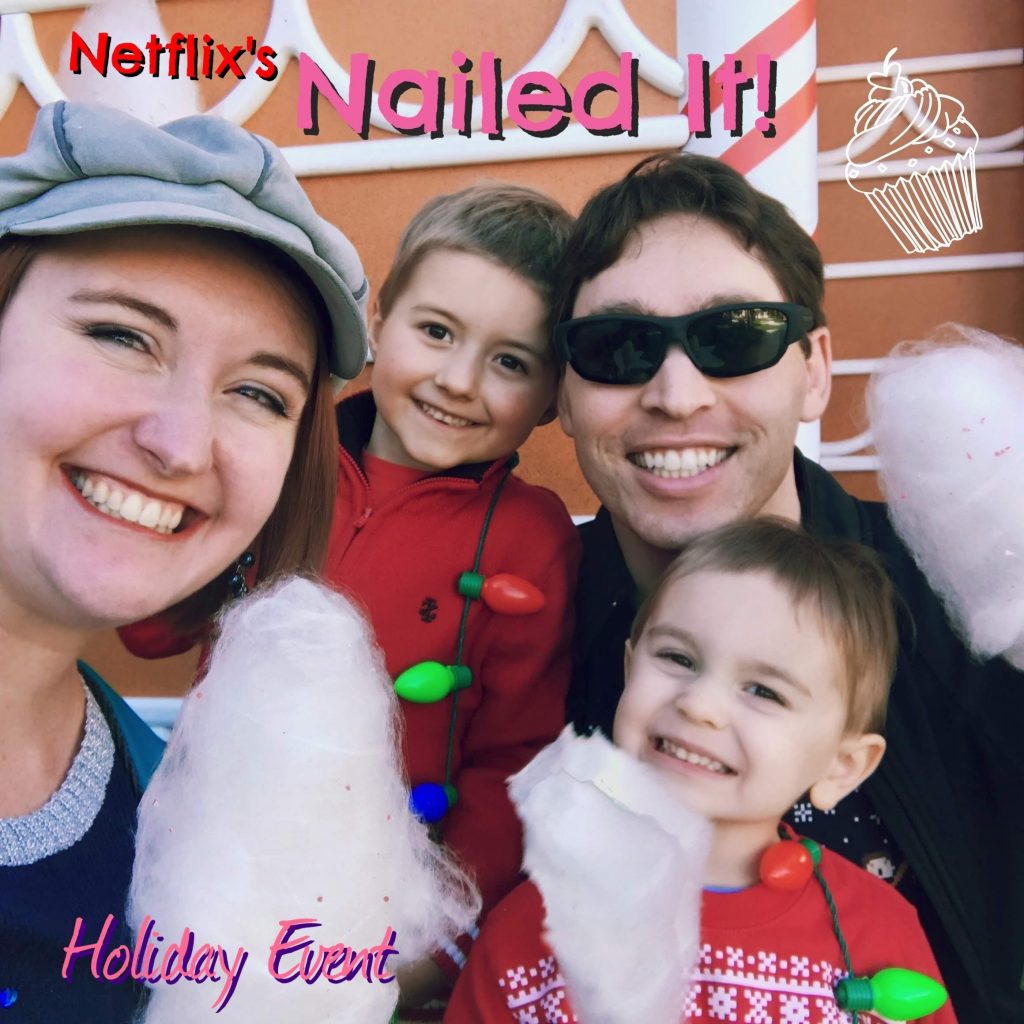 We all really love Netflix's "Nailed It!"
Have you ever heard of "Pinterest Fails?" Well, this tv show is basically just that. They pit three complete amateurs against each other in a fast baking competition, and watch as they try to recreate beautifully detailed cakes and desserts…usually with hilarious results. Think fairy princesses that look possessed. Baby Jesus cake pops that have…er, melted. And judges struggling to keep their composure as they realize the cake they just bit into mistakenly used SALT instead of sugar.
Each episode usually has our whole family laughing so hard we're crying, when the results are revealed.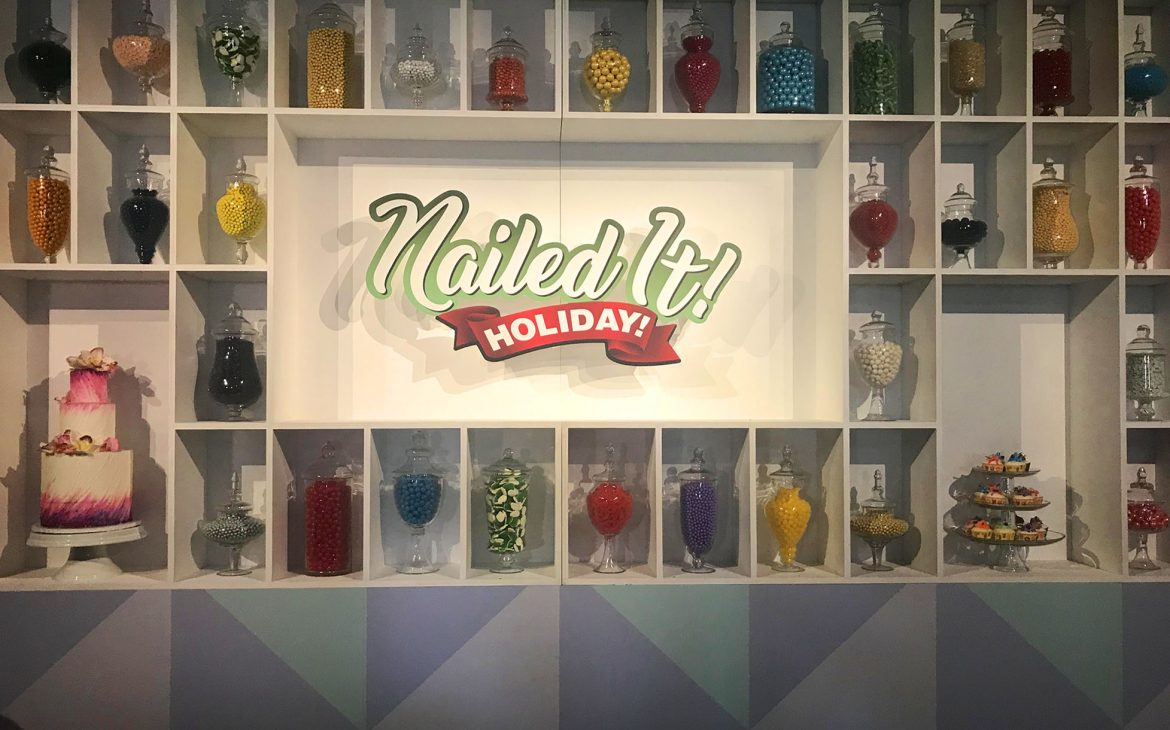 So of course we were really excited when we heard that Netflix was hosting a Nailed It! Holiday Party at Goya Studios in Los Angeles, and we could reserve tickets! We thought it would be so much fun to see where they filmed one of our favorite shows.
We drove down to LA, keeping the destination a secret from the boys. They tried to guess where we were going, but clearly were not getting even close. 
Sights to See at Goya Studios
When we pulled up to the studio lot and Brendan saw the "Nailed It" logo, he got a big grin and started jumping up and down. We were greeted by stilt walkers dressed like candy canes! The boys also couldn't resist jumping onto the pair of swings set up on the grass, either.
Brendan and Toby were happy to discover the cotton candy station, where you could add fun things like sprinkles and crushed candy canes to your fluff. There was also popcorn with cinnamon sugar, and apple cider!
Into the Gingerbread House...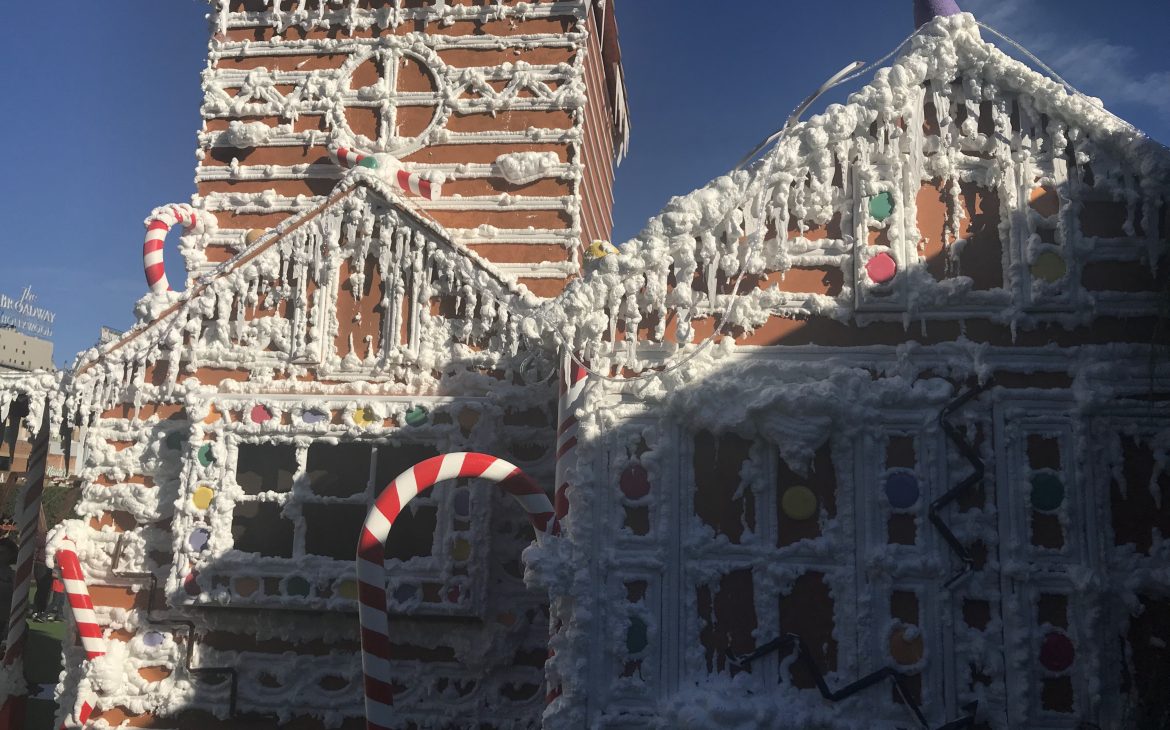 Next, we passed through a life-sized gingerbread house into one of the soundstages. Here, they had cookie decoration stations set up. You could choose either a Christmas tree or a snowflake, and were given ingredients to try and "Nail It" yourself. 
The boys took their cookie decorating VERY seriously at first. Then they realized that it was more fun to just pile on mountains of marshmallows and sprinkles. (We are STILL vaccumming up sprinkles from the car, days later)
Everyone Loves a Confetti Cannon! Except young kids.
My favorite part of this area was the room where you stood in front of a camera, it counted down, and then blasted confetti at you. Toby, however, heard the air blast just once and immediately freaked out at the sound. I even told him that it was just like Pinky Pie's confetti cannon from My Little Pony, which he loves!
 I knew it would be a really cute photo and that they would probably never get the chance to play in a ROOM FULL OF CONFETTI again any time soon, so I convinced the kids to try it out and just throw the confetti without the blast. I think it turned out pretty cute!
Now it was time to see some live performances. There were some really cool dancers painted to look like chocolate figures, and a great acapella group called the Mistletones. But we were especially thrilled to get to see the hosts of Nailed It judge a competition in real time!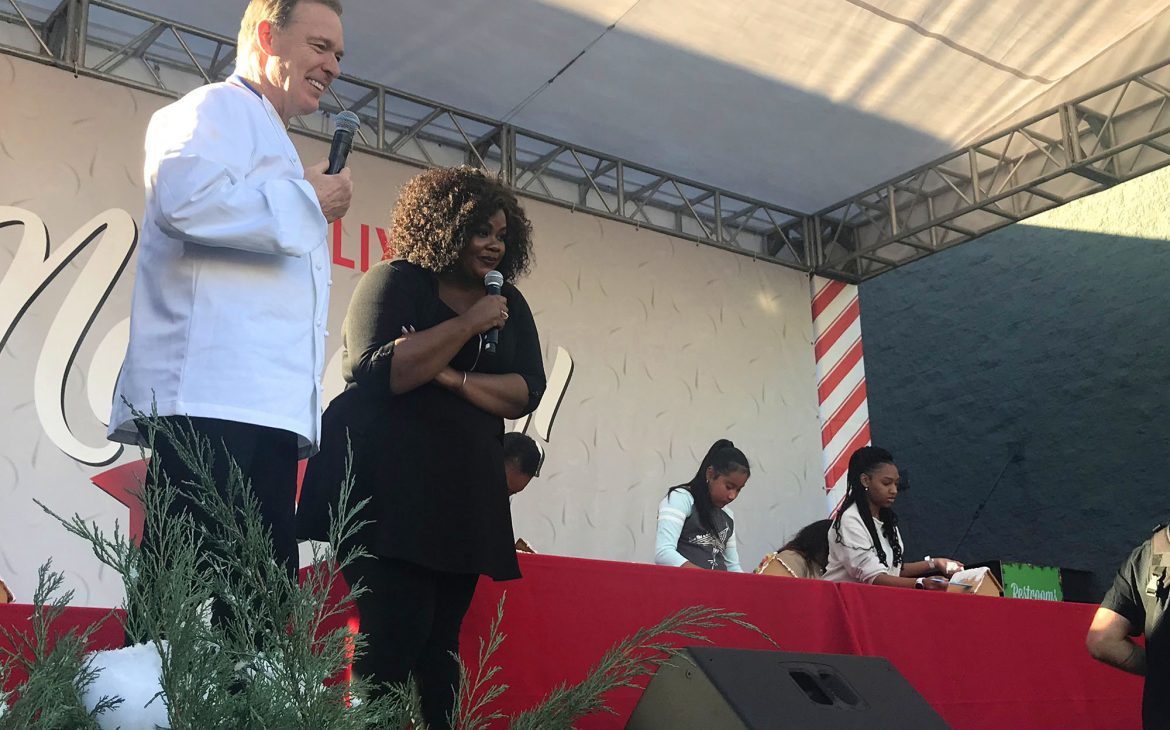 The contestants were selected from various Boys and Girls Clubs in nearby cities, and they took their jobs seriously! Jacques was really friendly and helped out a lot of the girls, and Nicole was hilarious with her off-the-cuff quips and play by play.
We finished off the day by exploring Goya Studios' largest soundstage, which had been transformed into a wintery forest, with giant cookies, candy, and a hot chocolate station!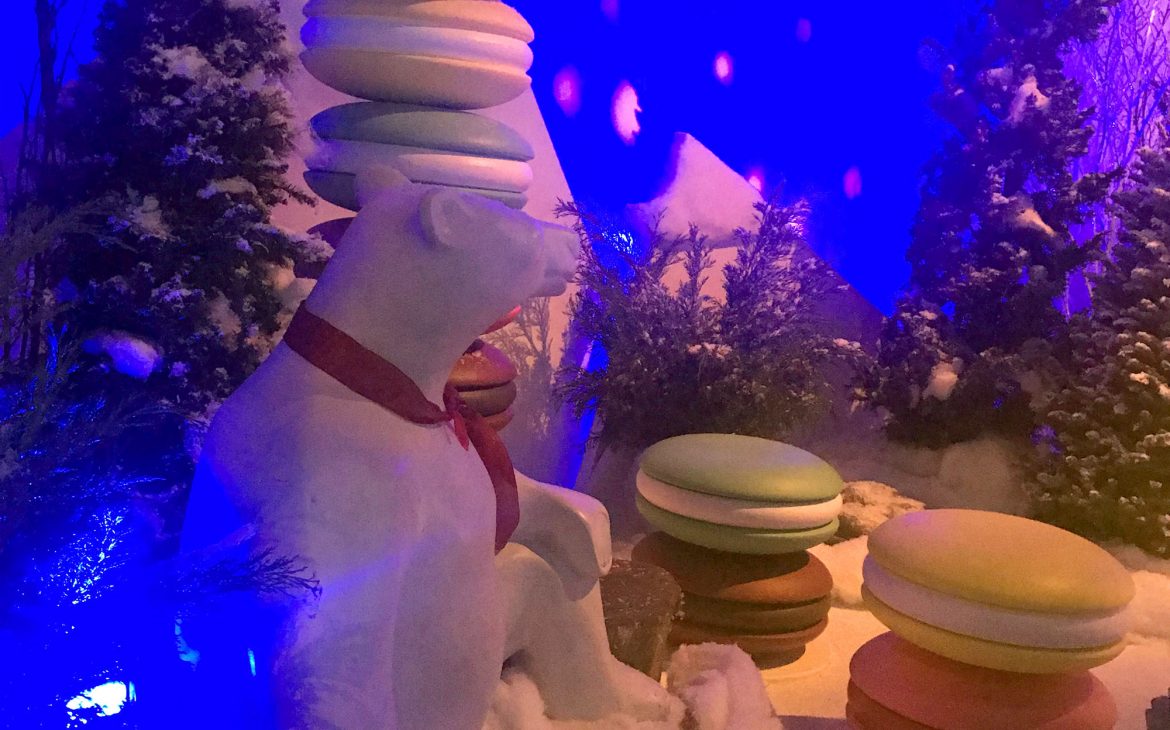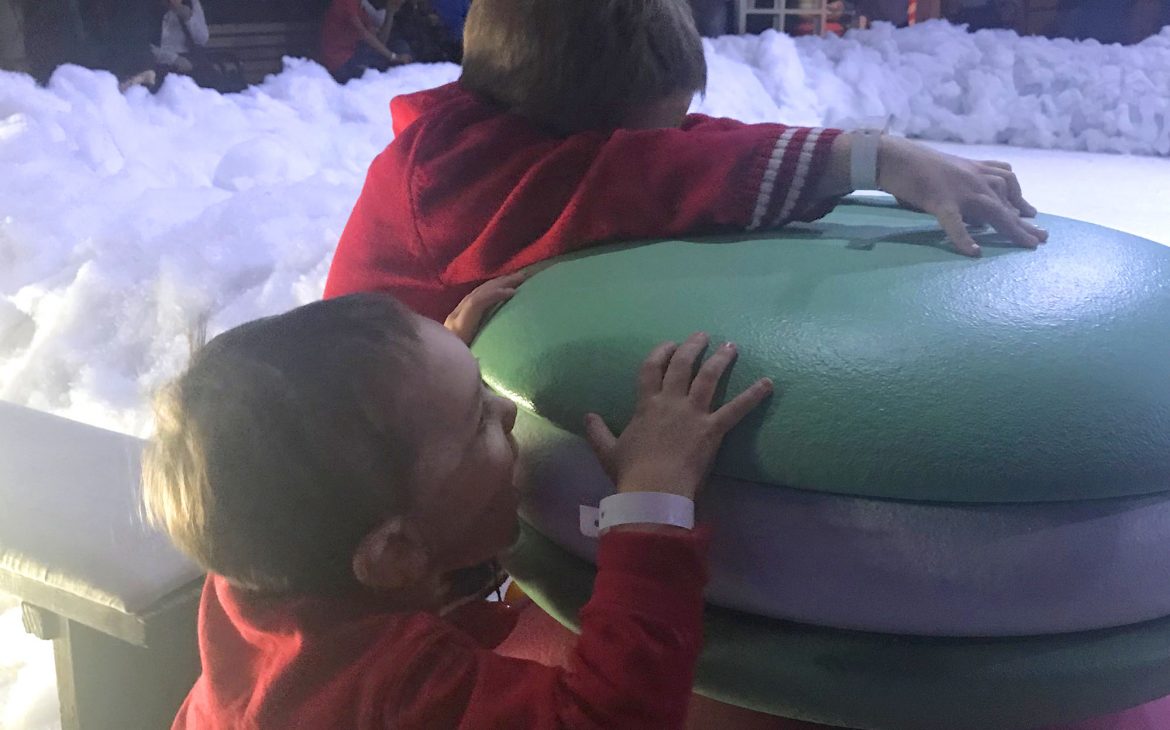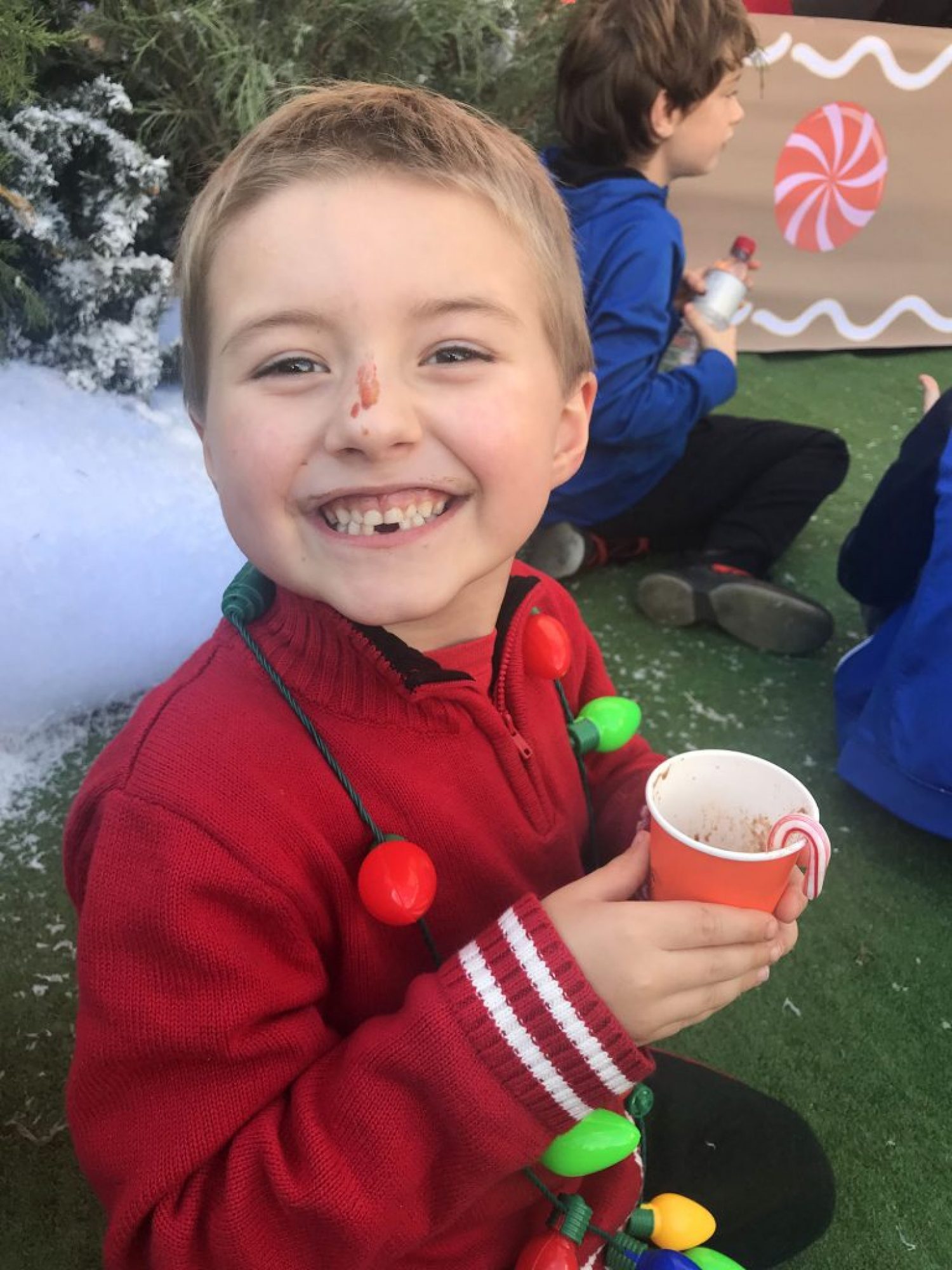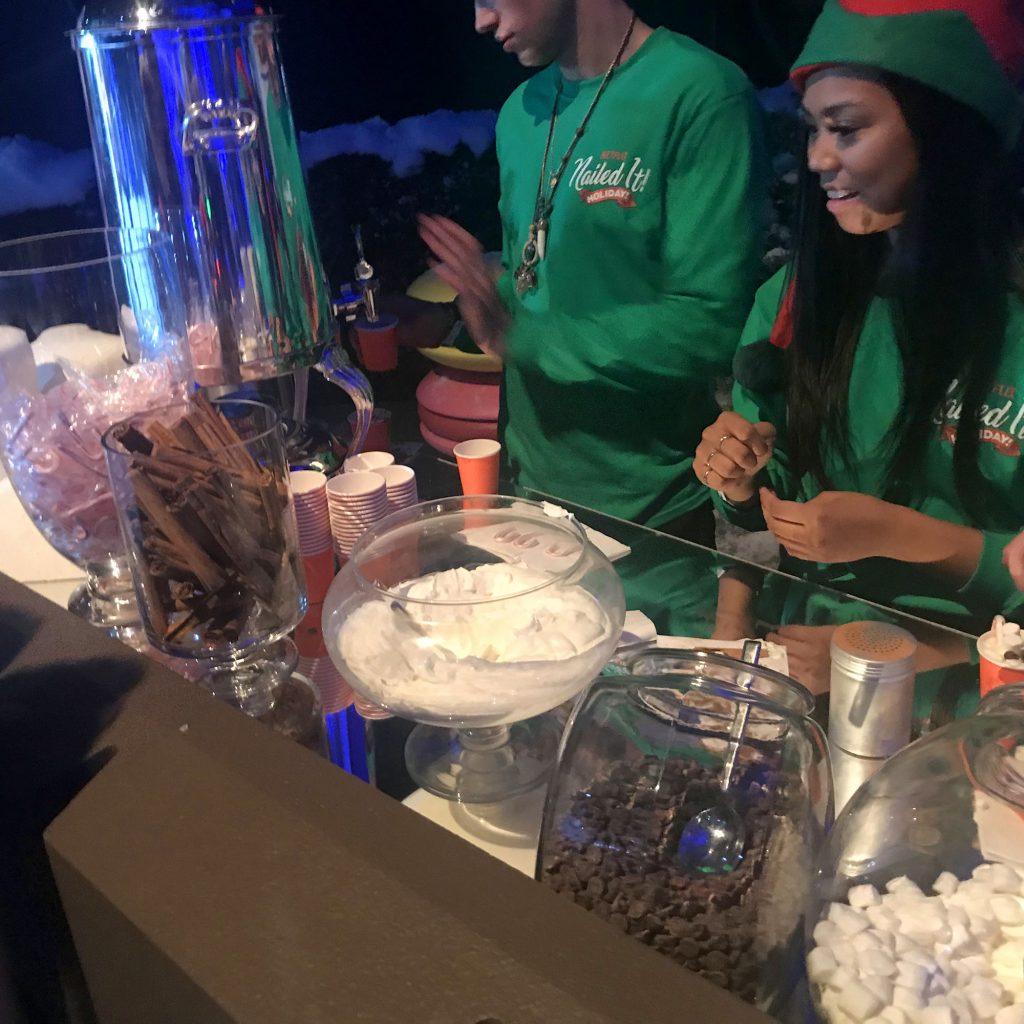 The hot chocolate bar had LOTS of yummy stuff. Brendan decided to wear some of it on his face.
The kids have never tried ice skating before (or even roller skating), so we weren't totally sure how this would go. It wasn't real ice, but more of a hard plastic surface, covered with some oily substance to help the skate blades slide. I'm pretty sure it was Crisco, as I found out the first time I wiped out and got it all over my hands and pants. LOL.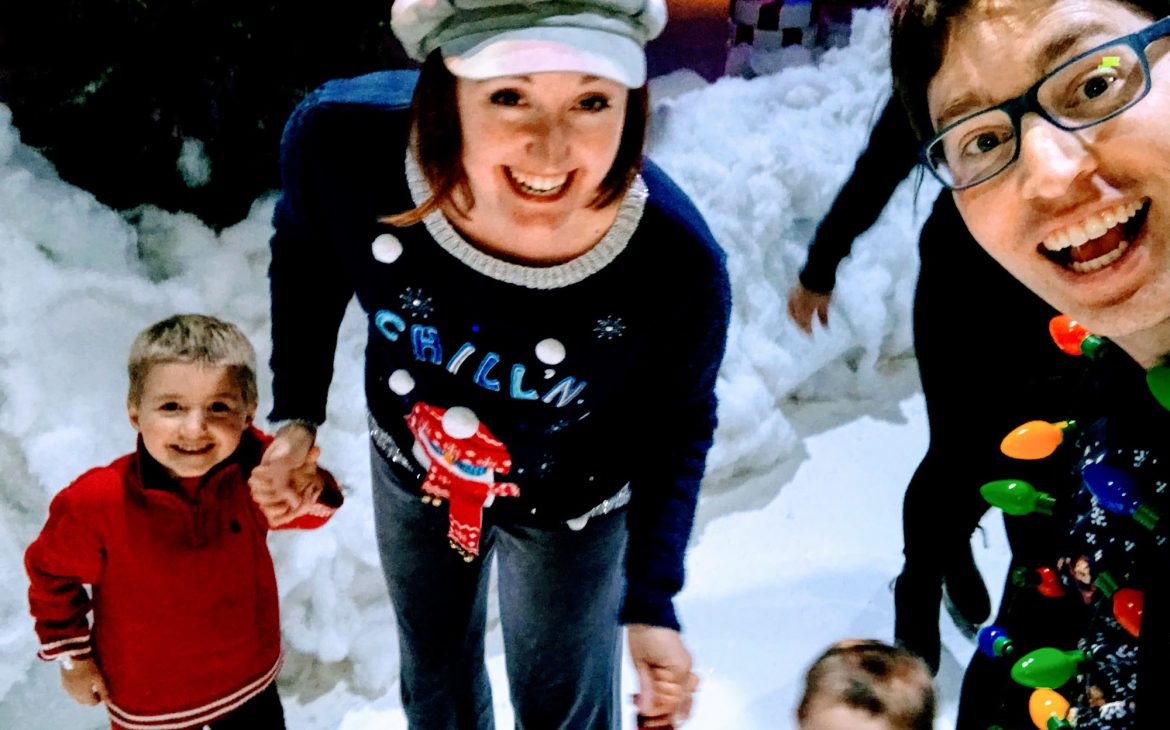 Surprisingly, the kids did really well! Maybe all those hours watching "Frozen" have given them super ice skills.
Check out the video to see us in action!
We had a great time, and thought we had tired out our little cookie monsters…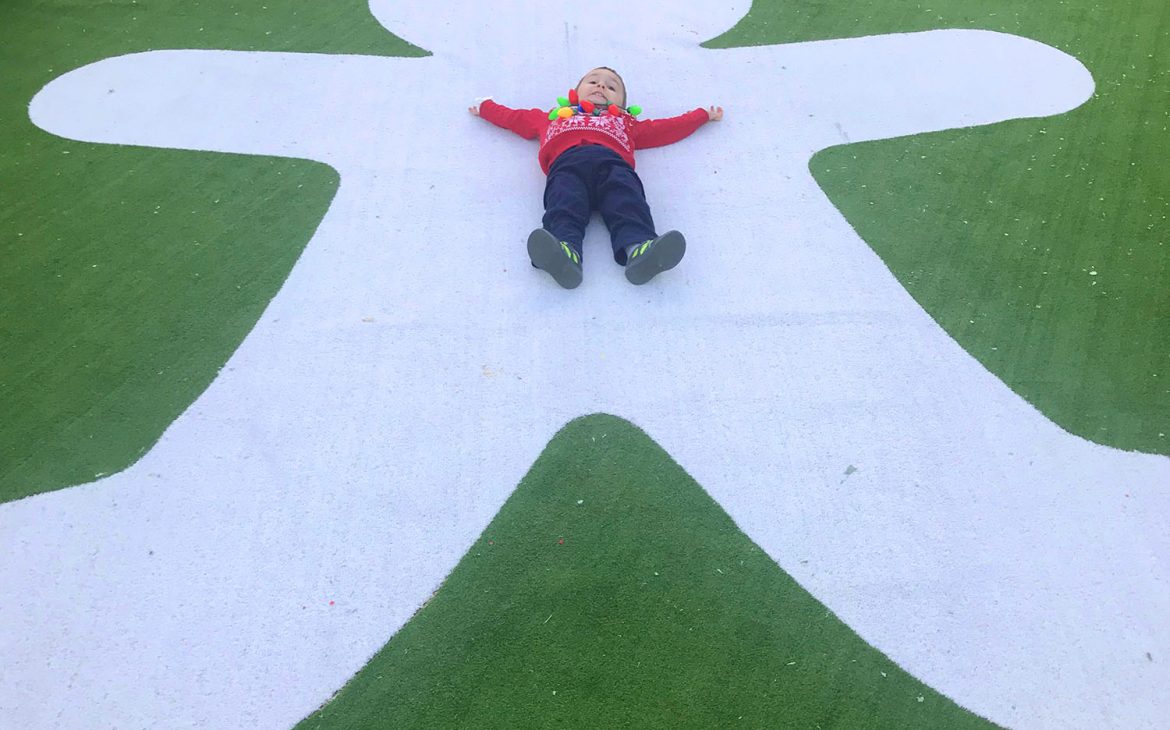 …until the sugar kicked in on the car ride home. 🙂
Have you watched "Nailed It" on Netflix? What was your favorite episode?