Set Phasers to STUNNING: How To Score Geekworthy Star Trek Fitness Apparel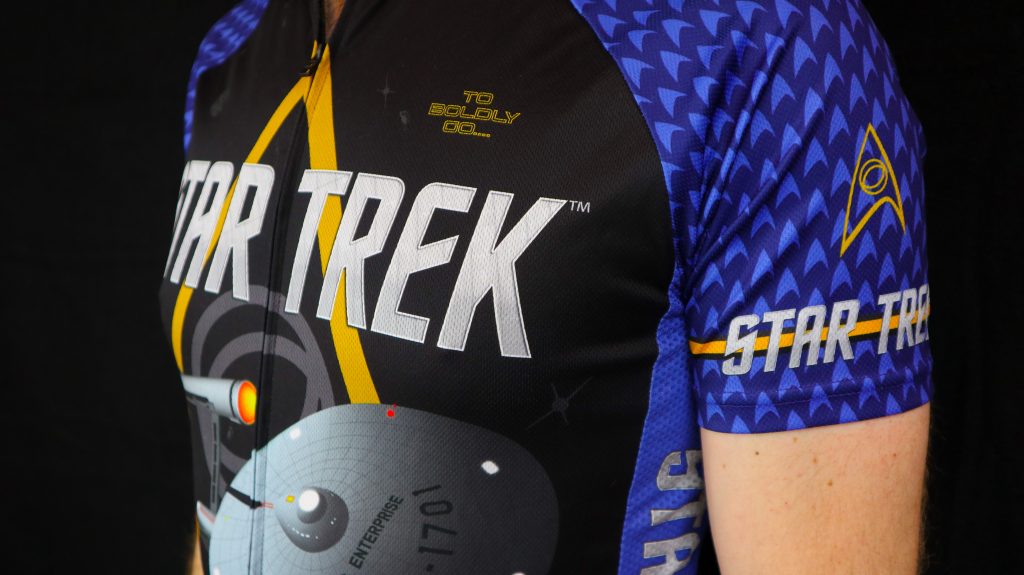 *This post was sponsored by Brainstorm Gear. We received products from Brainstorm in return for our honest review. All opinions are our own. See our Disclosure page for more details!
ANNOUNCEMENT: Read to the bottom for exclusive coupon codes, and a giveaway!
It's a New Year! That means New Years Resolutions, and the one that tops many people's lists is to exercise more. Running or riding bikes together is one excellent way that families can spend time together and stay active. We even know many families that enjoy competing in marathons and bike races!
But cycling and running gear can be pricey… not to mention bland. When I started commuting to work by bicycle, I looked at "official" cycling gear and was put off by the cost. Especially considering the lack of personality in the gear!
But Workout Fashion Doesn't Have to Be Boring...
If you have ever met me in person, you know that I'm a HUGE Star Trek fan. I usually am wearing some sort of Trek item, whether it's a tie clip, messenger bag, or even Trek-themed socks.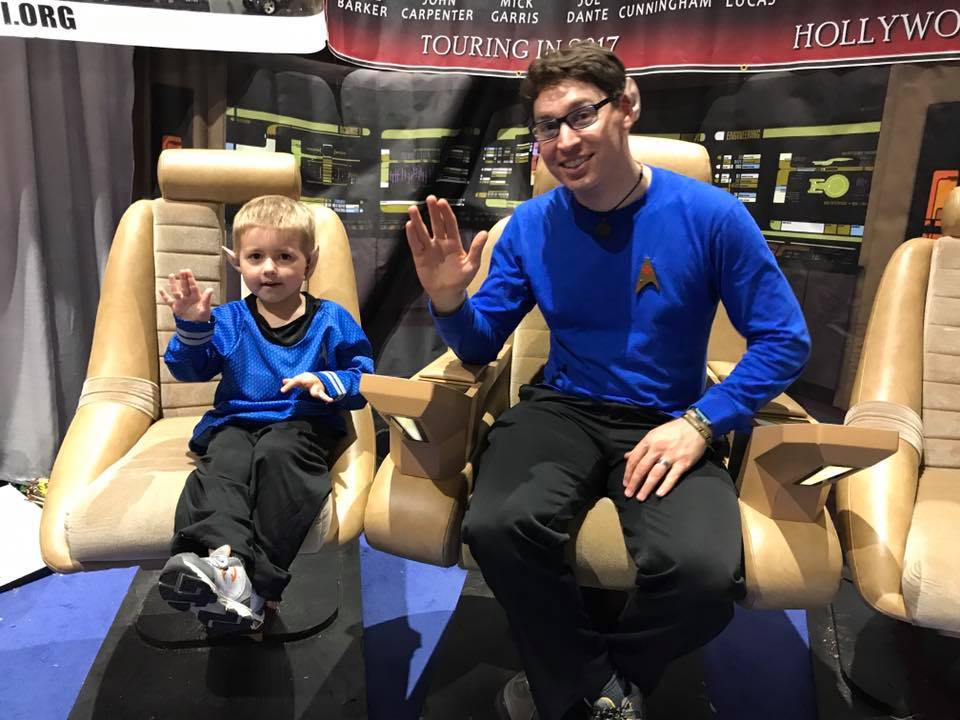 So I was thrilled when I discovered Brainstorm Gear's Star Trek cycling line. Not only are prices comparable or cheaper than other cycling gear (especially with our BOGO coupon below!), but they are just so cool! I purchased one jersey a few years ago, and with almost daily use, it's still in almost perfect shape. I have found the jerseys to be incredibly comfortable and of the highest quality. That includes the zipper, which seems to be a place of failure on a lot of clothing.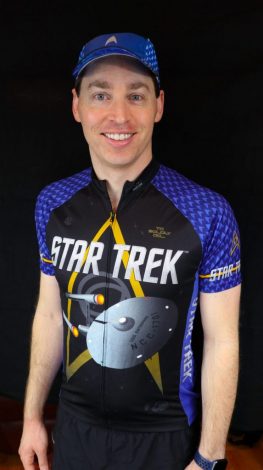 Better yet, Brainstorm offers a full one year warranty on their gear! They also have some of the best customer service I've experienced. They are very responsive with questions and assistance, including making exchanges, even when it was my error. For instance, cycling jerseys tend to be snug, and I wound up ordering a size too small. They made the exchange to a larger size quickly and easily.
For sizing purposes, I mostly wear Large shirts (although I can wear Medium to XL depending on the product). The XL jersey is most comfortable for me. Large fits, but it is a bit tighter, as you can see from the photos.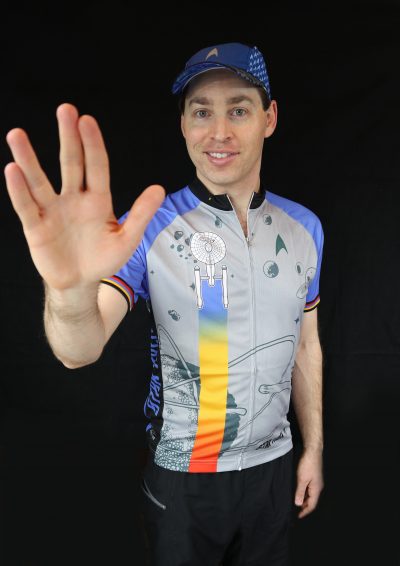 Make your Fitness Session Stand Out with Geeky Pride!
The image quality on the jerseys is wonderful. I see no evidence of any kind of bleeding or doubling of colors. The logos and designs are eye-catching. I previously purchased the blue Science jersey and recently won a Final Frontier jersey. I was excited anyway about the Final Frontier one from the photos, but in person, it's even more vibrant and engaging. I think it will be my new favorite!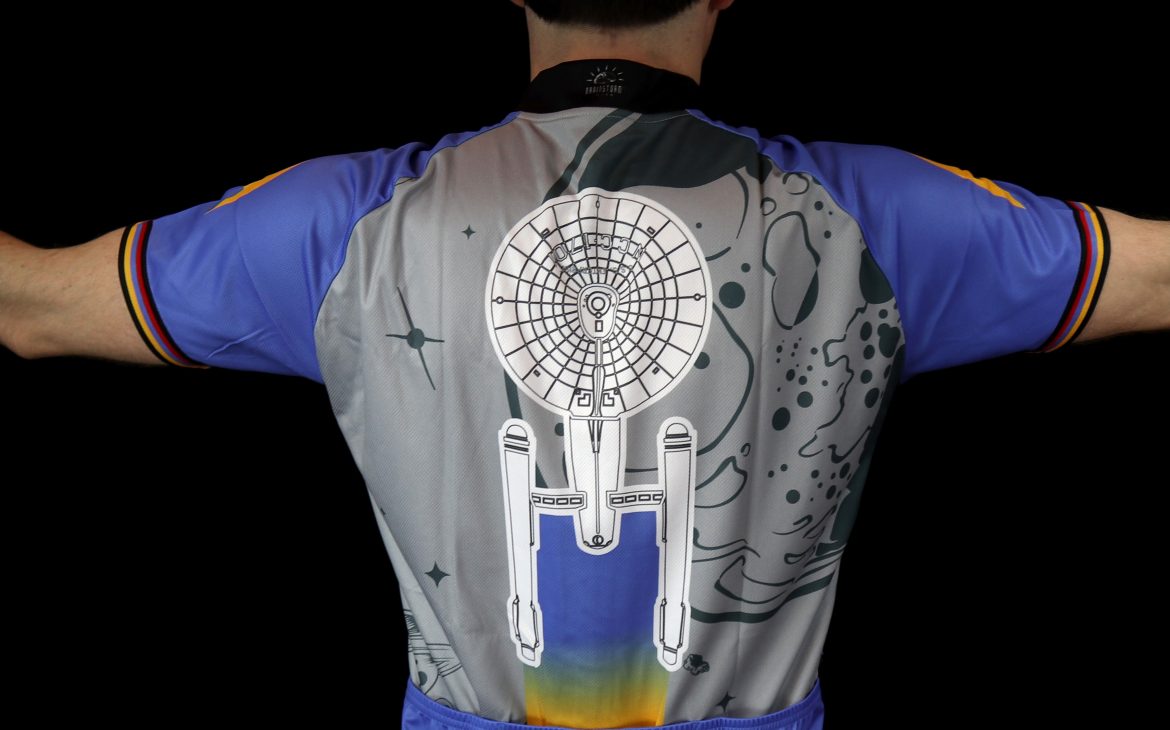 More Than Just Star Trek Apparel
If you're not as much into Star Trek or you'd prefer a different fandom, be sure to check out the rest of Brainstorm's pop culture-based lineup. Their Sesame Street apparel is quite unique and fun!
As you can see, Laci quickly stole these Count and Big Bird jerseys, because they are just fantastically designed. 
Laci is pictured wearing the Men's Size Large. She has a long torso (she's 5'11"), so it actually fit her comfortably. However, Brainstorm also makes plenty of products in Women's sizes!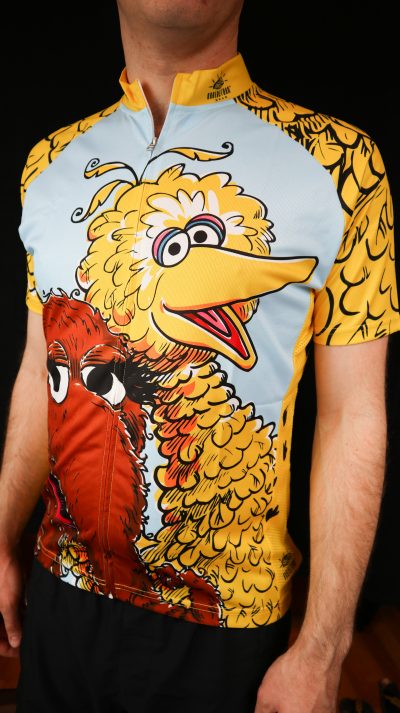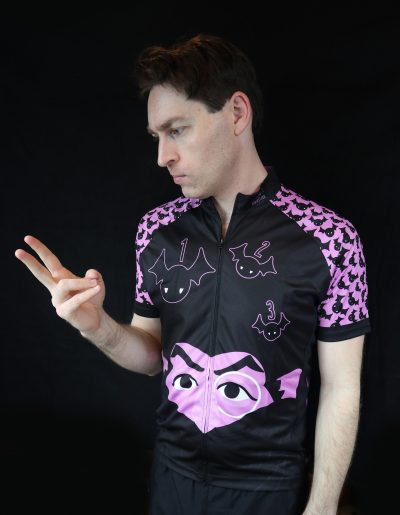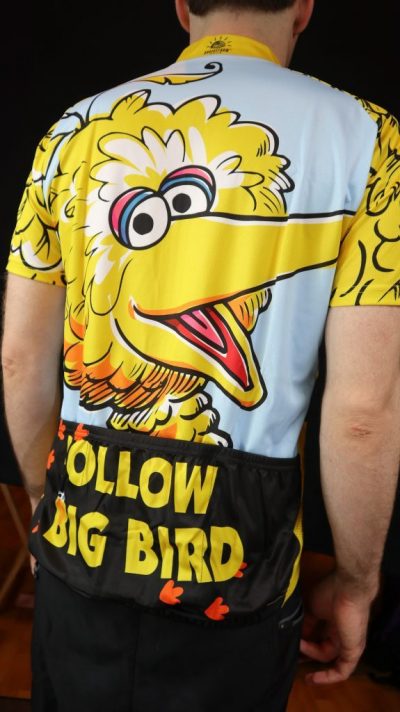 Like the Star Trek ones, they look and feel even better in person than online. I think the Count one is my favorite of these. They make me smile—and that's always a good thing when you're getting yourself to exercise. The kids love them, too, which can be a great way to get the family motivated to cycle together.
Plus, these fun but functional jerseys make other people smile. I think they raise visibility in a positive, safe way, as well. I've had a few drivers pause and say, "Live long and prosper," or express how much they love Star Trek. Jerseys that can be community building and encourage more physical activity… that sounds like a win-win!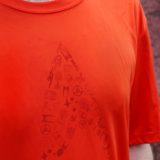 Moving on to running gear. Recently, I won one of the Cadet running shirts in a contest. They were out of my normal Large size, so I received an XL. I usually like everything in blue (reds and oranges tend to be missing from my wardrobe), so I wasn't sure about an orange shirt at first. But I have fallen in love with this shirt. It's a shade of orange that's just really cool.
I'm actually really glad I got it, because I might not have chosen it on my own. The material is also really comfortable. While the XL is a little loose, as expected, it's not a bad fit. I've worn it quite a lot, even for daily use — not just running. 
The design of the ships making up the delta insignia is just fantastic. There's a bit of a reflective quality, as well, which is great for active use and safety.
I usually need to wash shirts before wearing them because I have pretty sensitive skin, but all of the Brainstorm shirts have felt very comfortable and non-irritating immediately upon opening, which is a major plus. They also have no tags at the neck, reducing opportunity for any uncomfortable rubbing.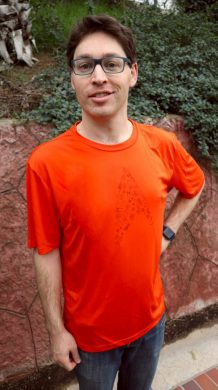 I also received a "Live Long and Prosper" running shirt. This one was in Large and fits very nicely. It's a bit longer than regular shirts, which is nice for those of us who are a bit taller. It's made of regular t-shirt cotton fabric, in contrast to the Cadet shirt. But it is also very comfortable.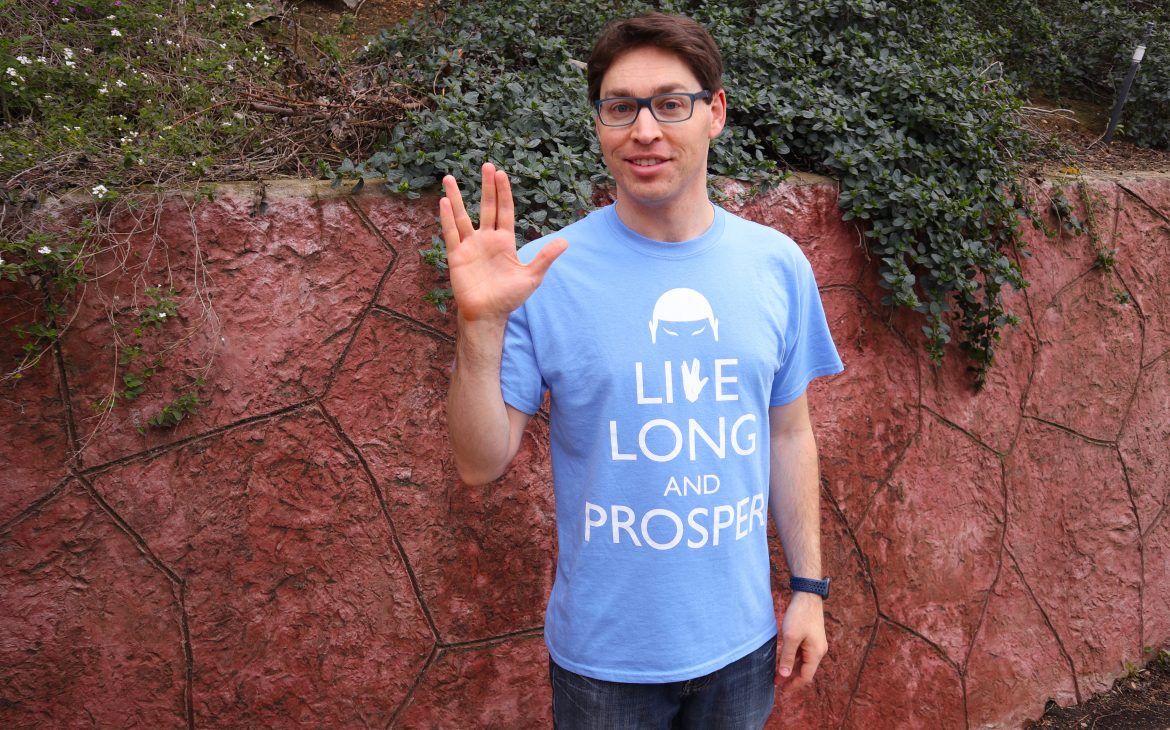 A Cool Baseball Cap? Make It So.
Finally, let's talk about the featherweight running hats. It's been a long time since I've been a hat person. However, these hats caught my attention a few years ago, so I bought a Science blue one (see—always blue—it works that the Science division fits me).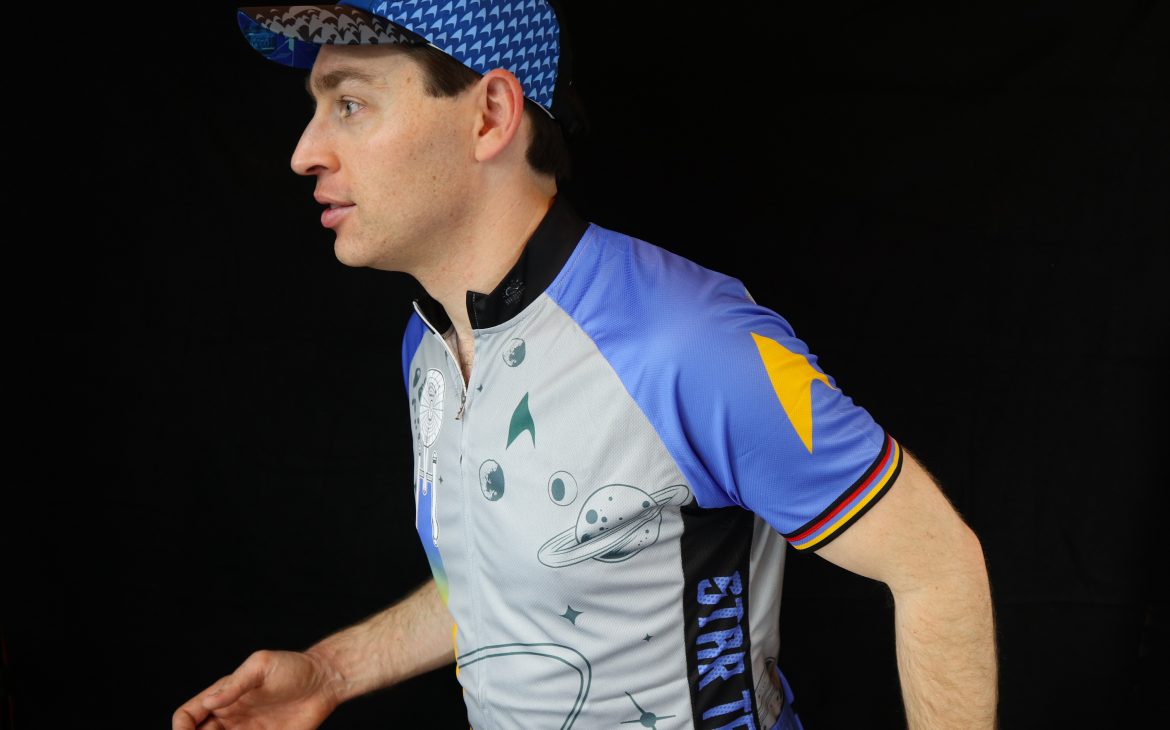 This hat turned me into a hat person. It's again got a great design and vibrant colors with good reflectiveness for safety. But I love how light they are. My complaint with hats in the past was that they got uncomfortable over time. I can forget I'm wearing this one.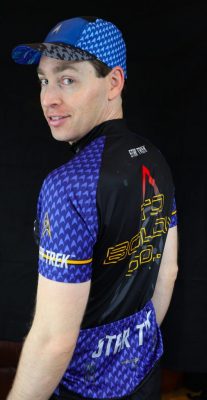 It's a great hat not just for physical activity, but also day trips, like amusement parks. I travel frequently for work, and sometimes I want a hat for my down time to keep sun out of my eyes. I don't want to smash most hats into my suitcase, but because these hats are so lightweight and flexible, they fit very well into a suitcase without damage.
Stylish, fun, comfortable, resilient, functional, and high quality. That would be my summary of all the Brainstorm Gear lineup. 
Whether or not you're a Trekker, check out their products, as you can probably find a license and gear that will make you smile and be even more motivated to get physical. 
And don't forget that a lot of the gear is good for daily activity, not just exercise!
Want One of Your Own? It's Giveaway Time!!!
With that, we'd like to announce that we have THREE Star Trek running hats (one Command yellow, one Operations red, and one Science blue) to give away!

We know you'll love these hats as much as we do! 🙂
To enter, simply type your info into the form below. You can earn extra entries by subscribing to our email list or sharing this post with a friend on social media. Enter before 11:59 pm PT on February 8, 2019.
Sweepstakes open to US Residents only, ages 18+. 
But Wait! There's More...
Exclusive Coupon Codes for Our Trektastic WanderFam:
Brainstorm Gear has also given us two limited time exclusive BOGO coupons for Star Trek gear.
There are some really neat designs included, and a few that we haven't even showed you yet! (Laci has her eye on this Women's Floret Star Trek running shirt, for example…)
Code WWRUN is good for the running apparel, and WWRIDE can be used for the cycling apparel (while supplies last).
And if you buy more than one, you can score some additional products free! For instance, the WWRUN code will give you a BOGO (or buy two, get two, etc.) on the Floret, Cadet, and LLAP Running Shirt Styles. The WWRIDE code has a BOGO on the "Final Frontier," "Galaxy Pop," and "50th Anniversary" Trek jerseys.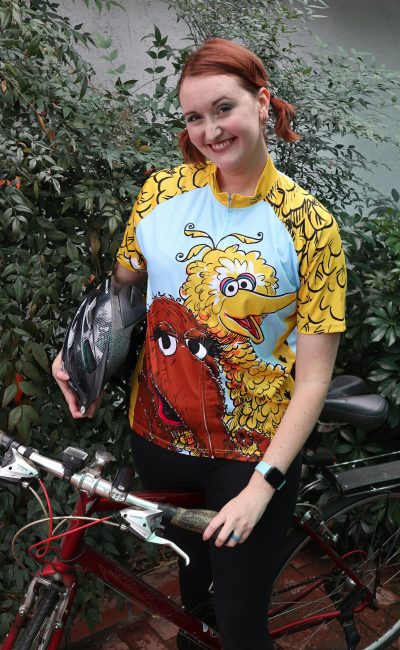 Make sure you head on over to Brainstorm Gear before these awesome codes expire soon! Promotion ends on February 17, 2019.
Exercising in style…what a great way to start off the New Year right!
Also, if you want to be in the loop about future promotions like this, don't forget to subscribe to our WanderFam email list, using the form below. We promise we won't spam you; just let you know when we've got new content that you might want to check out. 
We've got some AMAZING stuff planned for 2019…like the amazing, exclusive interview we've lined up with… nah. You're going to have to subscribe and stay tuned to find out…
Engage!
Subscribe to Our Email List
We'd love to let you know about more out-of-this-world giveaways and promotions like this one. And we promise we won't spam you! That's just annoying. Nope, we just like to share news when we have it, and update you now and then when some new content you may like hits the site. 
Besides, when you become part of our "WanderFam," you'll be the first to know about the exciting things we have in store for you in 2019! 
Looking forward to getting to know you better soon! May you Live Long and Prosper.