Shh…Our Top Secret Places for Finding Family Halloween Costumes…Cheap!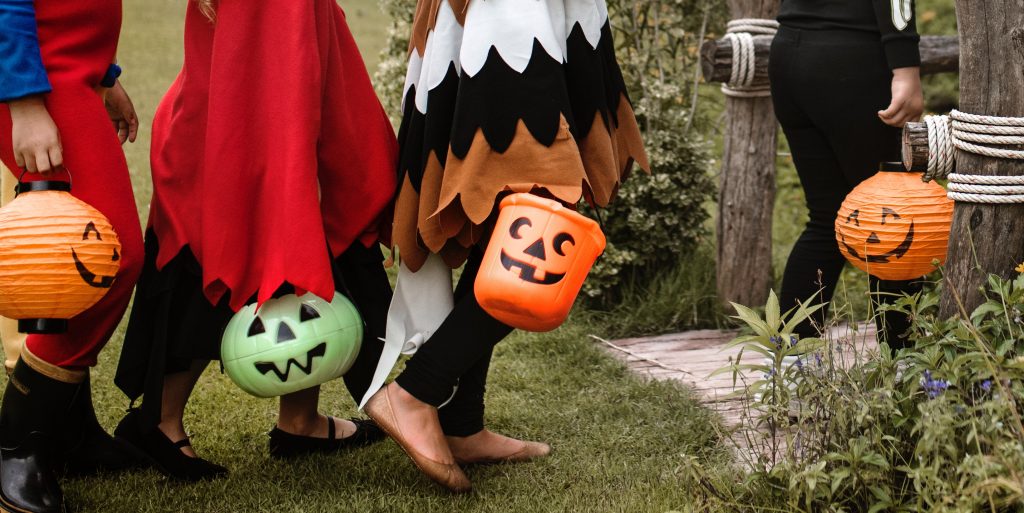 Shh…Our Top Secret Places for Finding Family Halloween Costumes…Cheap!
Halloween is DEFINITELY one of the favorite holidays here at the Morgan house. We tend to do a lot of cosplay and dress up, so we have multiple giant storage containers full of various costume parts we've collected over the years! When it comes time to put together Halloween costumes, I can't help my DIY nature…my mom drilled it into me when I was a kid that's it's WAY MORE FUN to create costumes yourself than to just buy a ready-made one from the store. And it was true…every time I entered a school costume contest, I tended to pick up a prize because my outfits were never things people saw hanging on the store racks!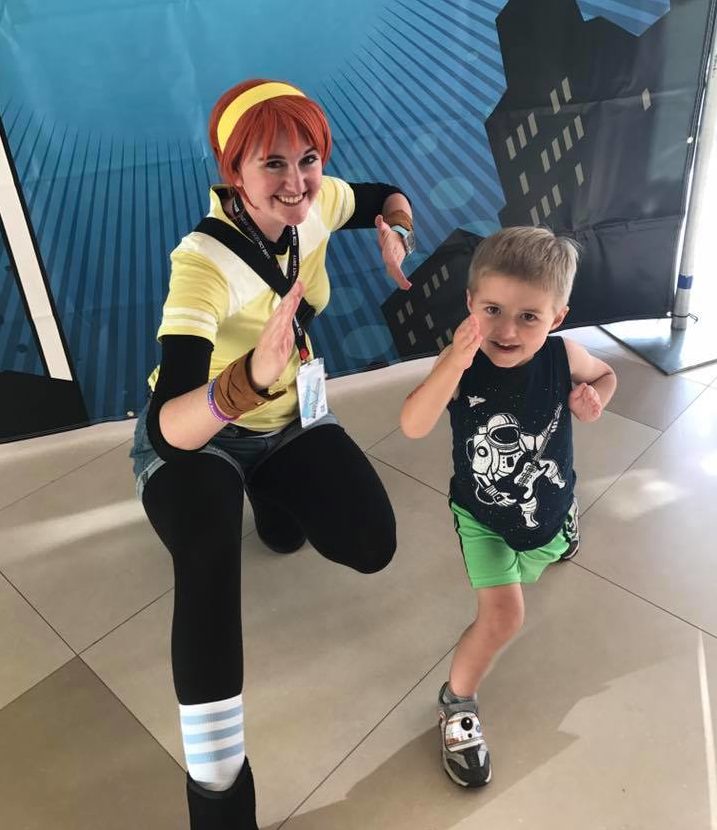 Since we often need a fairly unique costume available at other times than Halloween (have you ever tried to find an adult-size Twilight Sparkle from My Little Pony outfit in the stores?!?), I've learned to discover materials for costume making at easily accessible places. Here are my Top Secret tips!
Dollar Tree and 99 Cents Stores
These are treasure troves for costume materials! Headbands and ribbons can become costume accents. Washcloths and bathmats might double as "fur" material. I even repurposed stuffed plush Siamese cats found in the toy aisle to use as my "Tribbles" for Toby's costume when we attended Paramount's "Star Trek: Beyond" movie premiere.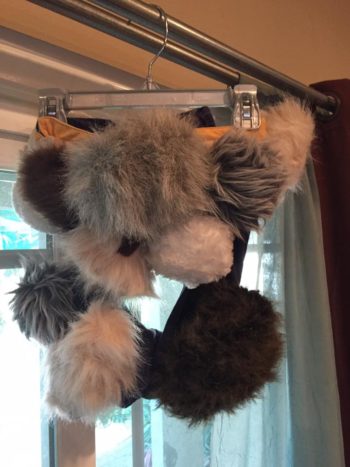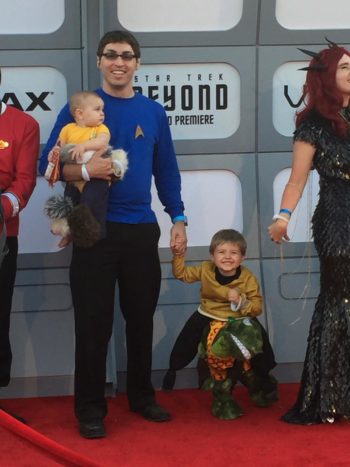 Velcro and hot glue sticks for attaching pieces can be found in the hardware aisle. There's cheap yarn to crochet things (like these Ninja Turtle masks!)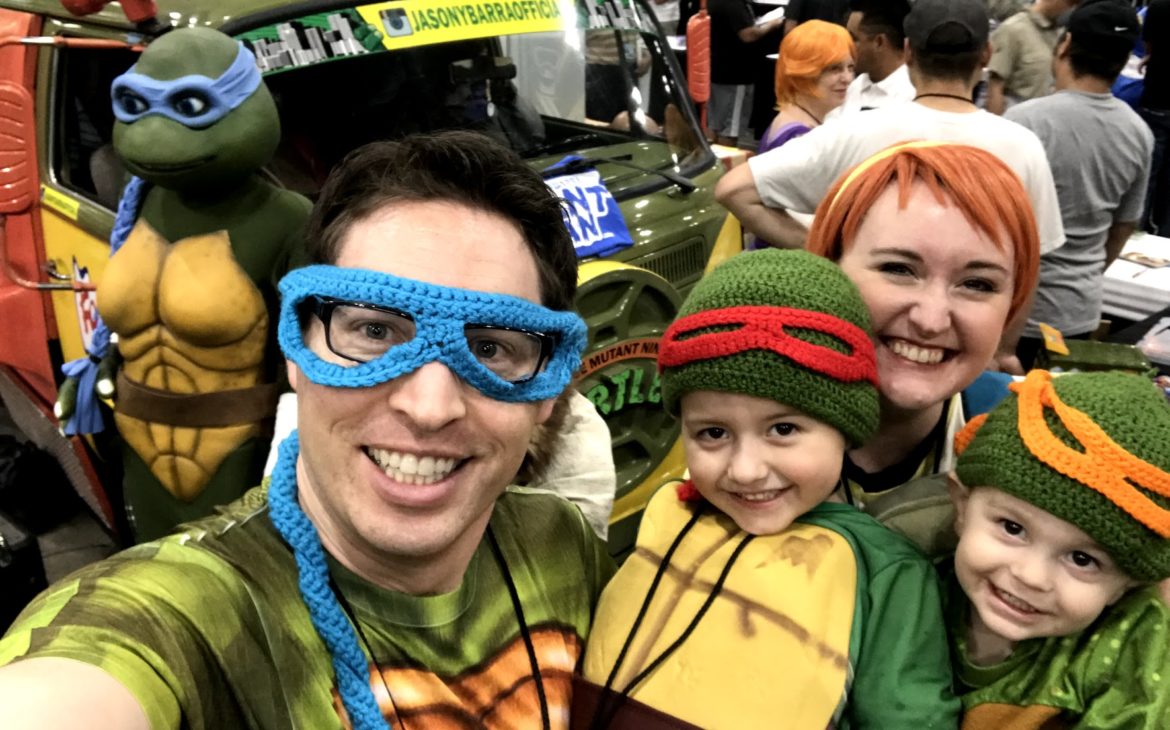 Kids tutus in the toy aisle might be perfect for your cat (don't judge…we totally entered Petco's pet costume contest every year with our fur babies before we had kids).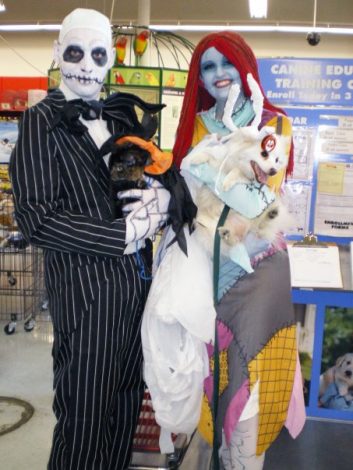 Seriously, the possibilities are endless at these places. The key to scoring a good find is not to expect fully made costumes – walk the aisles and look at the products AS PARTS. Could that silver laundry basket be a robot chest? Maybe a few of those rainbow gift bag bow could be a fairy wig. Or that cheap snorkel mask set could double as mad scientist glasses! 
Sure, you may know to shop thrift stores to find vintage steals or kids clothes at rock bottom prices, but did you know that they also have a whole Halloween section that appears before October?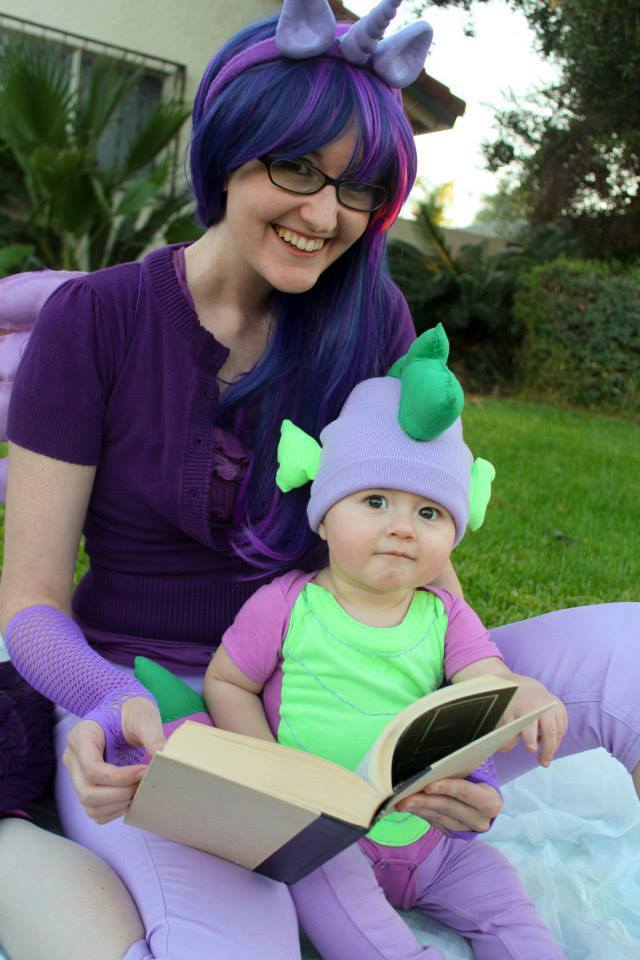 I stumbled on this fact when I was looking for purple sweaters for my planned Twilight Sparkle cosplay. I remembered that Goodwill tends to organize their sections by color, so I knew that it would be much easier to find exactly the right shade of lavender here, rather than searching endless stores for an unpopular color. 
It was probably early September at the time, and when I walked in the door, I was thrilled to discover that there was a whole section devoted to used Halloween costumes! There were racks full of nice store-bought costumes. I saw popular super hero muscle suits, Disney princesses, even those adorable but expensive fuzzy animal costumes you can get for your baby that are $50+ online!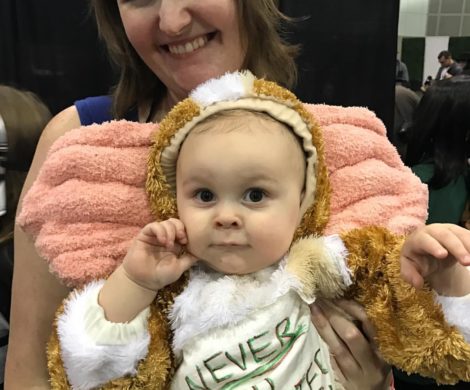 I also really like that they put out things like wedding dresses and garish prom dresses, so even adults can join in the fun. Most of the racks have bins of accessories like scarves and feather boas, hats, and masks on top too. If you don't have an idea for a costume party you'll be attending, I highly recommend you go browse this area…you'll probably have a boat load of options to consider!
Remember to look at each costume as MATERIALS here, too. For example, this year, the kids wanted to be Bingo and Rolly from Disney Junior's Puppy Dog Pals. (We love this show! They are brothers who are best friends and like to sing and get into messy adventures…sound familiar?) Since fake fur material can be expensive and there's no way I'd know how to sew a full outfit (I'm more of a basic hand stitch kind of gal…I haven't done patterns and machine sewing since junior high home ec), I knew I could count on the trusty Goodwill costume section to find something puppy-like. 
Sure enough, I found a perfect "hound dog" toddler outfit for Toby, who will be Rolly.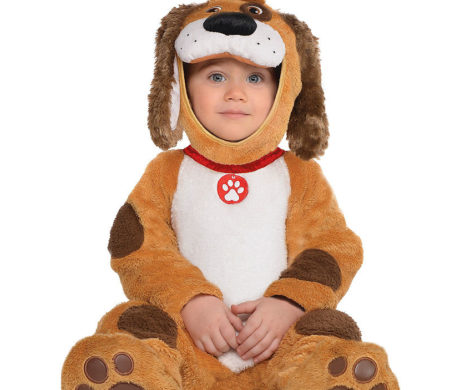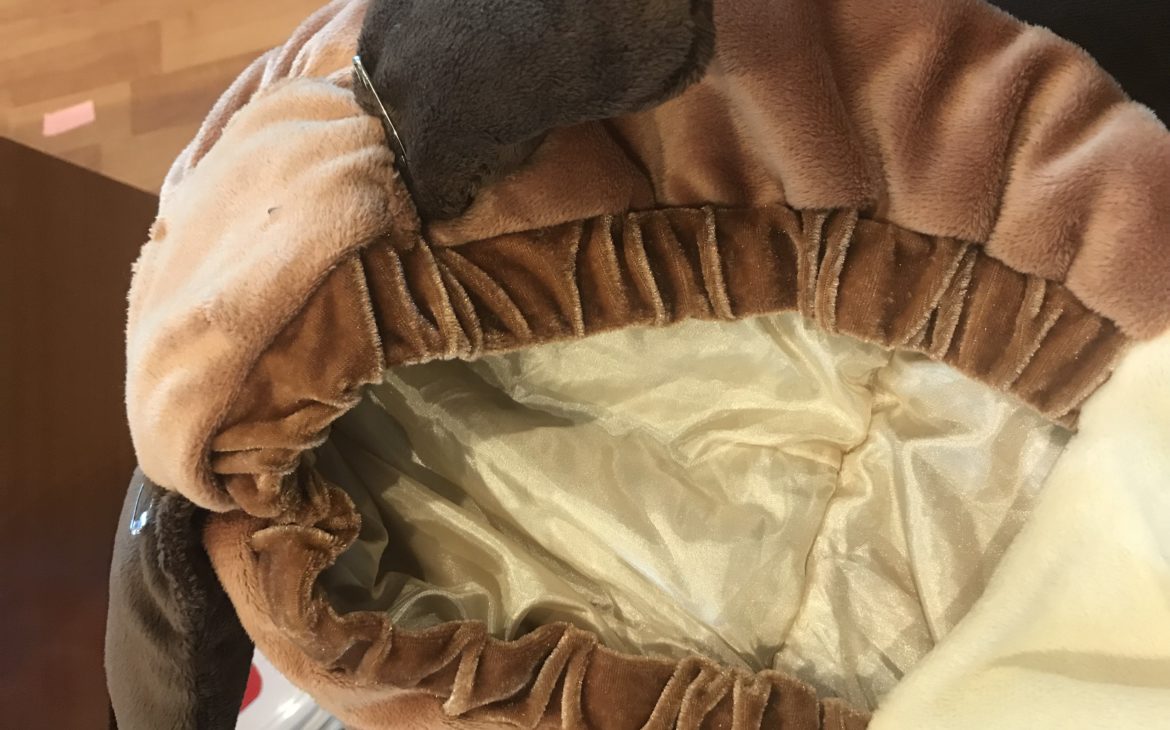 All I had to do was lop off the head on top (sorry doggie! It's cuter if I paint Toby's face instead) and shorten the ears to look more pug-like. I curled the tail around and pinned it, and voila! Tan colored pug puppy outfit for under $10. 
For Josh's outfit (he's going to be Bob, the pup's owner), all I had to find was a green sweater vest. Easy peasy. I'll crochet a red bow tie and use red hair wax for the 'do.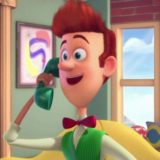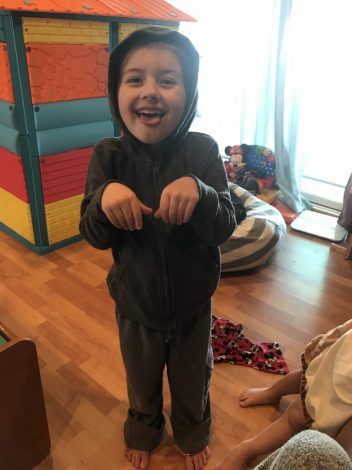 Brendan's Bingo costume was a bit more of a challenge, since there wasn't a grey animal costume in his size. But not to worry! I simply headed over to the kids activewear section, and easily found a dark grey sweatsuit with a hood. I bought pants that were too long for him, chopped off the ends, and turned those into ears and a tail. Done!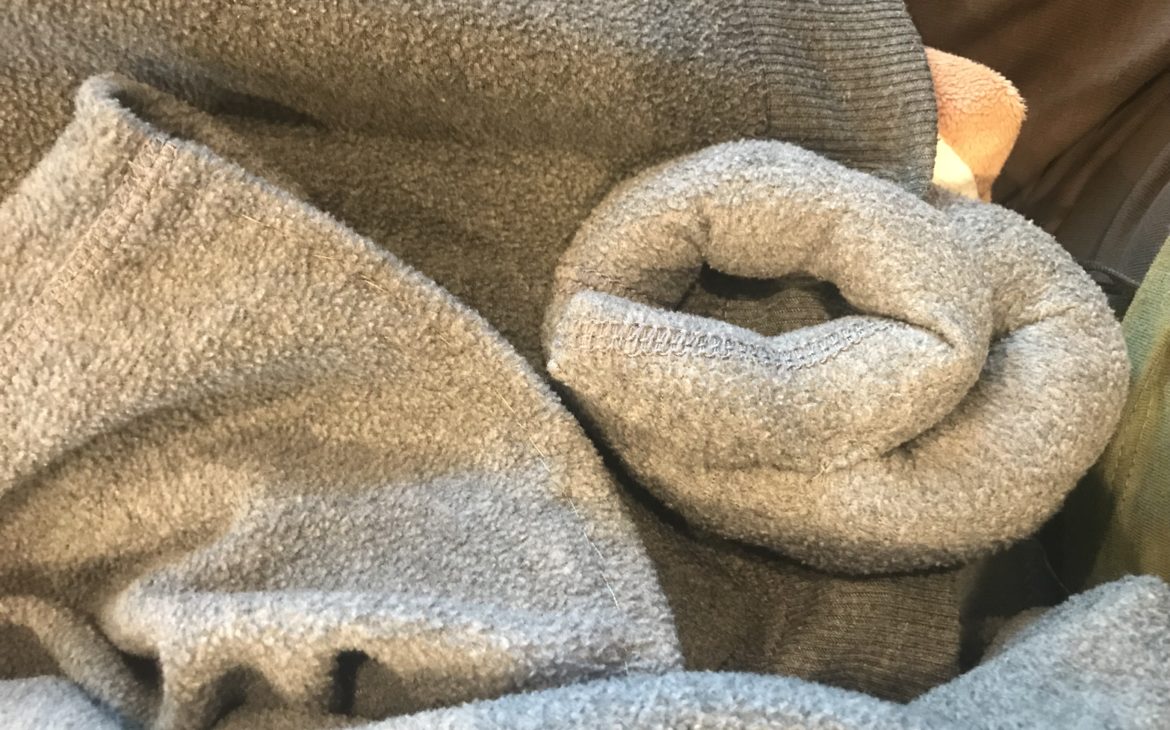 I'm going to be Hissy the purple cat, which will probably be the hardest one. Luckily, I found this purple fuzzy bathrobe that I'm sure I can use as a jacket over my purple leggings, and I picked up some fuzzy legwarmers from Dollar Tree that I can easily stitch together to become a tail. A bit of face paint to make me a kitty (I'm a big fan of CATS the musical, so yes, I know how to do cat makeup), and that's it!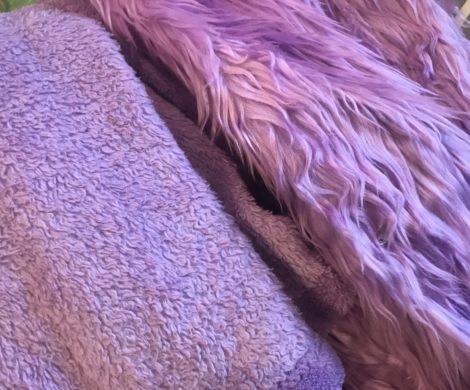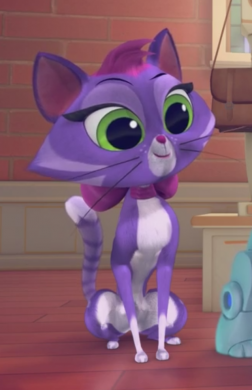 Don't let costume making be a stressful thing. It can be a lot of fun to come up with family themes and have each member brainstorm how they can build their costume pieces! Brendan and Toby enjoyed racing around the store looking for things that were just the right shade of green or grey (another sneaky way to incorporate learning into daily tasks!), and creatively inventing uses for the materials we found. 
You don't have to spend a lot to look great this Halloween, if you use these secret resources that are probably in your town.
What costumes are you planning for your family this year?
We want to hear your creative ideas in the comments below!